This makes me so incredibly happy …
When the Cincinnati Enquirer ran a cover feature on The Clara Project in today's Food section, I hoped that someone who knows Clara Shenefelt Williams (in the 1930s, Clara compiled the collection of recipe cards that I discovered last year in an antique shop) would see the story and get in touch with me.
It happened. This morning, I had a lovely e-mail from Clara and Roy Williams's daughter, Jan. Her note nearly brought me to tears:
I am Claire Williams' daughter, her only child. She & Roy lived in Hamilton from 1966 to 2009 when they both moved to Mt. Pleasant Retirement Village and celebrated their 72nd wedding anniversary on August 21, 2009. Dad died a few months later at the age of 96. While in Hamilton, they were both elders in The Presbyterian Church and very active in the community. After my dad retired they took 3-month assignments in Asia for IESC, living in Sri Lanka (2 times), Bangkok, Manila, & Jakarta … all while in their 70's.  Even into their 80s they walked several miles every day to stay in shape.  When they reached their late 80s I quit my job in Atlanta and moved up here so that they could stay in their home for the rest of their lives … but they lived too long for that.

Those recipe cards were sold by me at auction on May 20, 2012 when I had their estate sale. There was so much I wanted to keep … but my house is small and I had to pull out the treasures that I thought my son & grandkids might like someday. (BTW, the house was featured in Better Homes & Gardens one time because it was their BHG 1950 House of the Year floor plan, a plan my mom cut out & saved when they lived in New Castle PA.)

Mom majored in Home Economics at Penn State (Class of '37) and had planned to become a hospital dietician, so she was always very interested in food & entertaining.  I did not inherit those skills. Roy was a chemistry major at Penn State ('35) who ended up plant manager of an American Cyanamid (now Cytec) plant in Hamilton. They both loved playing bridge… cut-throat duplicate bridge at the senior center until 2009.

I loved seeing her handwriting & recipes in the paper—what a lovely tribute. I called my son (their only grandchild) who lives in Destin, FL, about the article this morning—I told him I am still shaking all over from seeing the story.  What a thrill for me … and for him since he spent every summer up here with his grandparents. We are a close family.
Claire Williams celebrates her 98th birthday on Monday, and Jan plans to take her to lunch. Here's a photo that Jan sent of her parents on their wedding day in August 1937.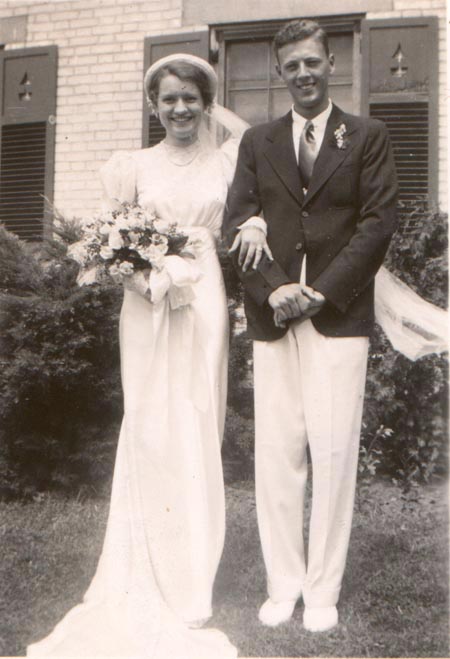 And here's a photo of Claire and Roy on their 70th wedding anniversary in 2007. What a lovely, loving couple.
Read more about The Clara Project and see the recipes from her collection. Here's the article from today's newspaper.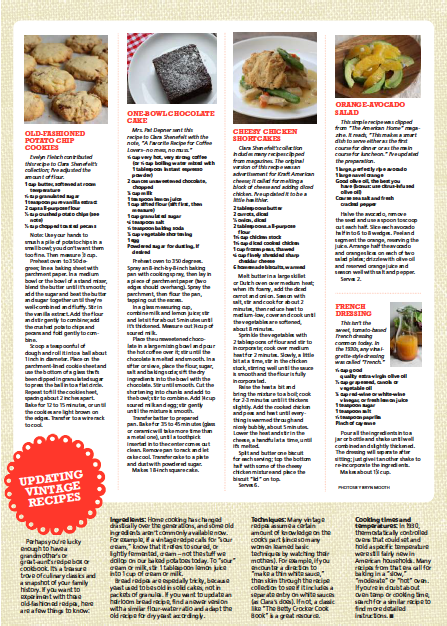 How wonderful to add these photos and details to the picture of Clara "Claire" Shenefelt Williams that I've been painting in my mind ever since I found her recipes.
Just, wow.