It's been awhile since I've posted a recipe from the vintage recipe collection that inspired The Clara Project. (Read on for the backstory on Clara Shenefelt and The Clara Project, and see all the old-fashioned recipes in the collection.) Primarily, that's because so much of my cooking during the warm months is recipe-less: I tend to shop the farmers' markets to see what looks good, and then freestyle our meals.
But now that the weather's turned cooler, I've returned to Clara's 1930s recipes for inspiration. And this recipe for homemade biscuits seemed so right for a brisk day. I started with her very basic biscuit recipe and updated it with a kick of black pepper. Too, I decided to bake these beauties in a heavy iron skillet, just 'cause.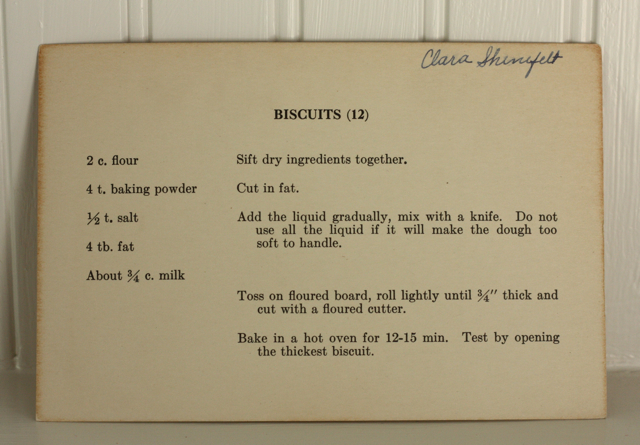 This biscuit recipe is pretty much foolproof: the ample amount of baking powder (be sure to use very fresh baking powder for best results) and the light acidity of the buttermilk means the biscuits rise nicely. You can certainly omit the black pepper, but I love that salty-peppery flavor.
These black pepper biscuits would be awesome on the Thanksgiving dinner table … if you happen to be gathering menu ideas now.
salt and pepper skillet biscuit recipe
makes 1 dozen biscuits
2 cups all-purpose flour
4 teaspoons baking powder
1 teaspoon kosher salt
1/2 teaspoon freshly cracked black pepper
4 tablespoons cold unsalted butter, cut into chunks, plus 1 tablespoon butter, melted
1 cup cold buttermilk
Preheat oven to 425°. Butter a cast iron or heavy ovenproof skillet. Sift the flour, baking powder and salt into a large mixing bowl; stir in the pepper. Use your fingers to work the butter into the dry ingredients, until you have pea-sized pieces of butter and loose flour. Stir in the buttermilk a bit at a time (you may not need all of it), then use your hands to lightly work the dough into a soft ball with no loose flour remaining. Turn the dough out onto a lightly floured surface and pat into a circle about 3/4 inch thick. Cut rounds with a 2-inch cutter; place in the skillet closely together. Reroll and cut scraps. Bake for 12–15 minutes, until golden brown. Remove the skillet from the oven; brush the biscuits with melted butter and top with more cracked pepper.