One of the many reasons I love the Christmas season is that it presents the ideal opportunity for glorious, unfettered, too-many-to-fit-in-the-freezer cookie baking. So here at writes4food.com we'll be sharing (at least) a Christmas cookie recipe per week until we've either 1) run out of butter or 2) run out of weeks in December. My lineup includes a variety of Christmas cookies: decorative and plain, buttery and chocolatey, most of them old-fashioned family favorites. And because writes4food has recently had a little facelift, I'll be highlighting some Christmas cookie recipes from last year, updated to the new format.
Stock up on your baking essentials, friends, and join in Christmas Cookie-Palooza!
First up: A recipe from Clara Shenefelt's collection. (Read more about The Clara Project and the vintage recipe cards that inspired it.) Hermits—a simple cookie with dried fruit and nuts—aren't overtly Christmas-y on their surface. But this recipe for hermit cookies is loaded with warm spices that are perfectly seasonal (and they make the kitchen smell amazing).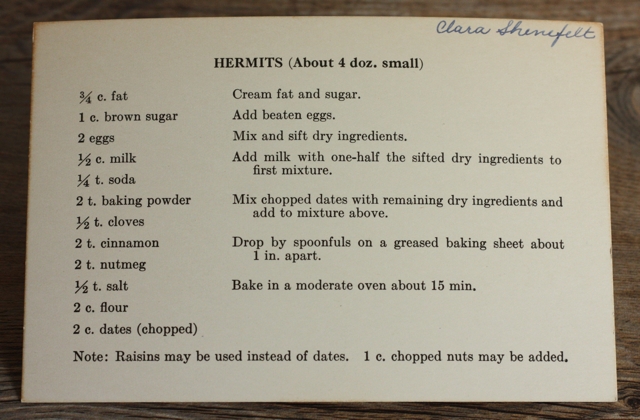 To up the festive factor, I added some chopped green-tinted candied pineapple (yes, it's loaded with HFCS and artificial color, but I wanted that pop of crazy-green in the cookies). The original recipe called for chopped dates or raisins; I used a mix of my favorite dried fruits—1 cup of cherry/berry mix and 1 cup of golden raisins. You could also use the lovely fruitcake blend from King Arthur Flour. I also added a teaspoon of vanilla to enhance the flavor of these fruit-nut cookies.
This cookie dough is less stiff than, say, a chocolate chip cookie dough, so you'll want to keep it refrigerated between batches and make sure your cookie sheet is well cooled before scooping out another batch, lest the cookies spread too thin during baking.
old-fashioned hermit cookie recipe
(makes 3 dozen generously sized cookies or 4 dozen bite sized ones)
3/4 cup unsalted butter, softened at room temperature
1 cup brown sugar, lightly packed
2 large eggs
1/2 cup milk
1 tsp. vanilla extract
2 cups all-purpose flour
1/4 tsp. baking soda
2 tsp. baking powder
1/2 tsp. salt
1/2 tsp. ground cloves
1/2 tsp. freshly grated nutmeg
2 tsp. cinnamon
2 cups dried fruit, chopped
1 cup chopped pecans or walnuts
Preheat oven to 375 degrees. In the bowl of a stand mixer (or in a large bowl using a hand-held mixer) cream together the butter and brown sugar for 2 minutes, until the mixture is light and fluffy. Stir in the eggs and vanilla. In a large bowl, whisk together the flour, baking soda, baking powder, salt and spices. Add 1/2 of the dry mixture to the batter along with the milk, and stir well to combine. Toss the dried fruit and nuts with the remaining dry mixture and then stir into the batter, combining well. Drop by generous teaspoonfuls onto an ungreased baking sheet. Bake 12–15 minutes, or until the cookies are deeply golden. Transfer cookies to a wire rack to cool.