There's probably a good reason why we don't often ponder the way the universe works, the way that God or fate or karma or just plain dumb luck creates the connections that weave together the fabric of our lives. It's all too mind-blowing to contemplate.
And yet, there are times when these destined connections smack us in the face, and we're forced to consider the awesomeness of it all.
That happened last Wednesday, when I met Clara Shenefelt Williams and her daughter Jan.
For anyone just tuning in to our story, let me back up a little … Last August, I encountered a stack of vintage recipe cards in an antique store. The cards were beautiful, some of them hand-written, others printed. I couldn't pass them up. I brought the bundle home, untied the fabric that held it together, and entered a world of cooking as it was in 1937 or so (when some of the cards were dated). Scratch cakes. Gelatin salads. Veal puff. Classic cookies. So many of these old-fashioned recipes are absolute gems.
At Rob's suggestion, I began The Clara Project, a once-a-week posting where I choose a recipe from the stack, prepare it, and share it with any adjustments needed to update it for modern techniques and ingredients. Favorite recipes in The Clara Project have included Old-Fashioned Hot Fudge Pudding Cake and Potato Chip Cookies.
In June, I wrote a feature on the project for the Cincinnati Enquirer. It included a note that I hoped to connect with someone who knew Clara or her family. Serendipitously, after a friend alerted her to the story in the paper, Jan got in touch with me that very morning. Soon, we struck up a delightful exchange of e-mails that continues. She told me that Clara was soon to celebrate her 98th birthday. We decided we had to meet in person.
That happened last week. It felt more like a reunion than a first-time meeting. Clara and Jan are beautiful ladies, with big smiles, generous hearts and quick laughs. We had a delightful afternoon as Jan prompted Clara to recall events in her life. "I've had such a good life," Clara said over and over. She spoke lovingly of her late husband, Roy. She was lively and present during the conversation.
We thumbed through her old recipes, and she said, "I'll be darned" when she recognized her handwriting. In speaking with Jan, I discovered that Clara had been a good cook, took pride in preparing wholesome food for her family and could whip up a dinner party for 12 without breaking a sweat—though cooking wasn't an all-consuming passion for her. She enjoyed sewing and needlework. She and Roy traveled well into their later years. And she patiently accompanied him on the fishing trips that he so loved, because she wanted to be with him.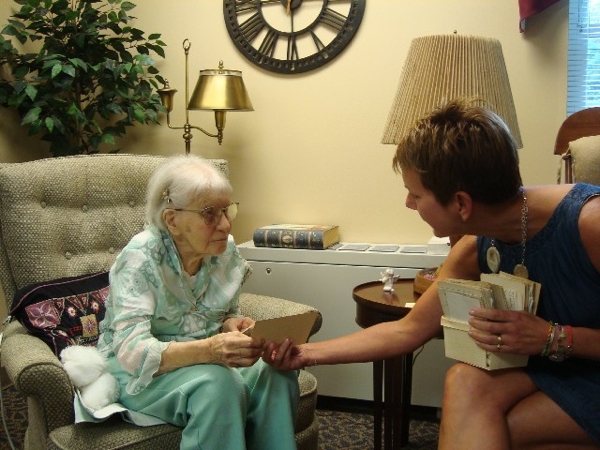 I baked a batch of oatmeal cookies using a recipe from Clara's collection. They seemed to be a big hit. (I'll post that oatmeal cookie recipe this week.)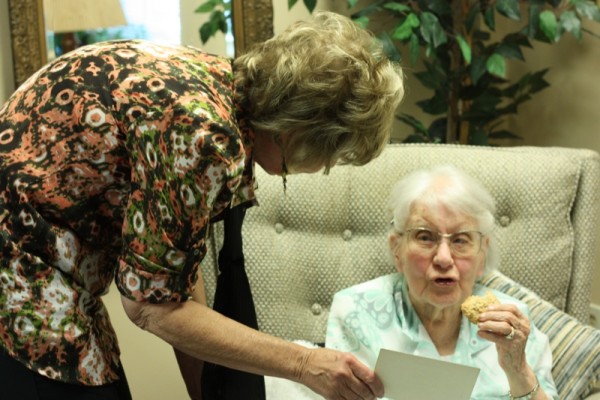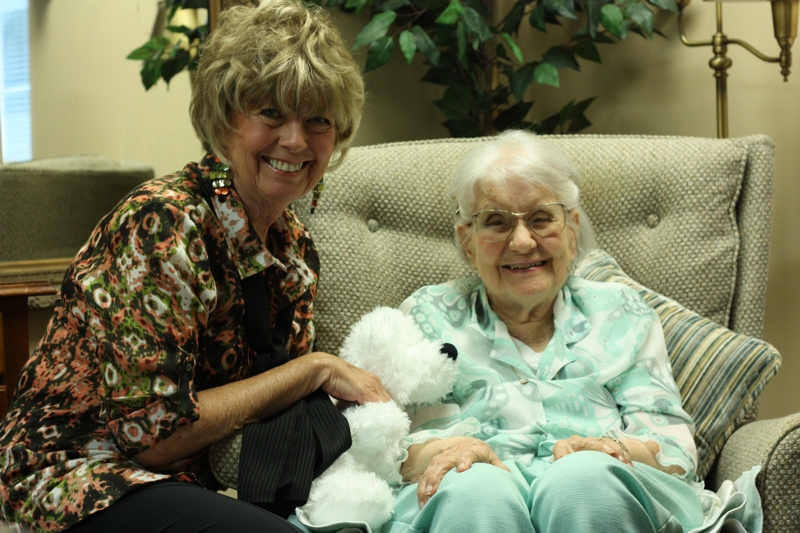 I'm not sure which of the three of us enjoyed the day more. It was a treasured experience—one of those times when lives intersect and people connect in ways that feel like they were supposed to happen.
It feels like there might be a book in here somewhere—a collection of favorite, old-fashioned recipes from Clara and from my grandmothers Ruth and Dorothy. A celebration of the way cooking used to be, with simpler ingredients and loving preparation.
What do you think? 
---
About The Clara Project
Once a week, I'll make and share a recipe from a collection of vintage recipe cards that were written in the 1930s by Clara Shenefelt. See all the Clara Project recipes.
---