Thumbing through the collection of vintage recipe cards that inspired The Clara Project, one thing is striking: the comparatively small number of recipes for main dishes. Most of the recipes are devoted to desserts and salads. A number of cards document a particular cooking technique, like broiling or roasting, or staples of the 1930s housewife's culinary repertoire, basics like biscuits, plain cakes, coffee and oatmeal.
But main courses as we would recognize them today—pastas and sautés and casseroles and stews? Not so much. And the handful of mains in the collection are, well, just weird. And no matter how many different ways I look at a recipe for, say, Oysters Mornay or Fish Pudding or something called Veal Terrapin, I just can't figure out a way to hack it for modern tastes and techniques.
Still, I've managed to update Clara's classic Chicken Croquettes recipe with good success, and there are a few other main dishes I aim to try (Swiss steak, a comfort classic, and another variation on the croquette idea, and "Italian Spaghetti," which may have been a novelty at the time).
And then, there's meatloaf. Clara's reliable, old-fashioned—delicious—meatloaf recipe.
Rather than making the traditional version that bakes for up to 75 minutes in a loaf pan, I wanted to update the presentation, so I planned to create quicker-cooking individual meatloaves. And then I picked up Deb Perelman's The Smitten Kitchen Cookbook (which I love and recommend) last week and discovered her clever way with meatloaf: shaping individual portions into large meatballs and serving them over mashed potatoes. Because the small meatloaves would bake for a shorter time, I opted to sauté the vegetables before adding them to the meat mixture, and I whisked up a quick ketchup glaze.
Serve these delightful individual meatloaves over a pile of garlic mashed potatoes (I love smashed Yukon Gold potatoes, with the skins on), buttered egg noodles or wild-rice blend, with a nice green salad alongside.
Classic meatloaf, comfort food updated.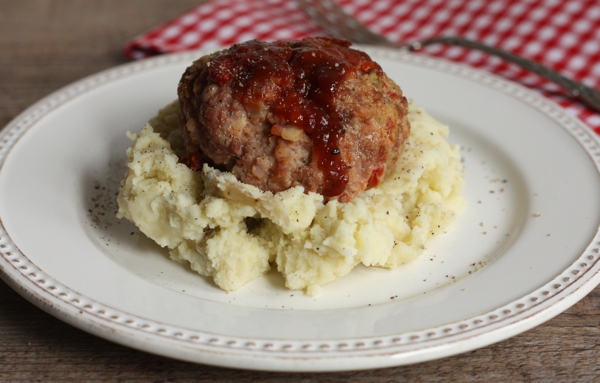 old-fashioned meatloaf with ketchup glaze
(serves 12)
1 lb. ground chuck
1 lb. ground pork
2 slices bacon, finely chopped
1 Tbsp. olive oil
1/2 cup finely chopped celery
1 cup finely chopped onion
3 cups fresh breadcrumbs (one hamburger bun = 1 cup of fresh breadcrumbs)
1 28-ounce can whole peeled tomatoes
1 cup milk
2 eggs
1 tsp. kosher salt
1/4 tsp. fresh ground pepper
1/4 cup ketchup
2 Tbsp. brown sugar
1 Tbsp. steak sauce or Worcestershire
Into a large mixing bowl, crumble the ground chuck and ground pork; add finely chopped bacon. In a medium sauté pan, heat olive oil over medium-high heat until it shimmers; add chopped celery and onion. Season with salt and cook, stirring occasionally, until the vegetables are translucent, 6 or 7 minutes. Remove from heat and cool. Drain the tomatoes (reserve the liquid for another recipe) and chop them roughly; drain off any remaining liquid. In a small bowl, whisk the 2 eggs together. To the meat mixture, add the sautéed vegetables, fresh breadcrumbs, tomatoes, milk, eggs and salt and pepper. Use your hands to gently toss the ingredients to combine, like you'd toss a salad.
Preheat oven to 350 degrees. Use a half-cup measure to scoop out generous portions of the mixture; gently form each portion into a ball; you'll have 12 meatballs. (At this point, you may opt to freeze some or all of the meatballs: Place meatballs on a baking sheet lined with waxed paper, cover with foil and place the tray in the freezer for at least an hour or until meatballs are firm. Transfer them to a zip-top freezer bag and store up to 6 months.)
Spray a baking rack with cooking spray and place it on a foil-lined rimmed baking sheet. Place the meatballs on the rack, about 1 inch apart. Make the glaze by stirring together the ketchup, brown sugar and steak sauce or Worcestershire; spoon some glaze over each meatball. Bake for 35 to 45 minutes, until a meat thermometer inserted into the center of a meatball registers 160 to 165 degrees. Remove the baking sheet from the oven and let meatballs rest for 5 minutes before serving.
Cast your vote: Meatloaf—love it or hate it?
---
About The Clara Project
Once a week, I'll make and share a recipe from a collection of vintage recipe cards that were written in the 1930s by Clara Shenefelt. See all the Clara Project recipes.
---