If you're too busy, too tired, too humbuggy to bake even a single batch of holiday cookies this year, I would urge you to reconsider and to make this recipe. Just this one.
These aptly named Merrie Cookies from Clara's recipe box (read more about The Clara Project and the collection of vintage recipes that inspired it) are sweet, simple, perfect with a glass of milk.
In fact, if I were making just one batch of cookies to leave, along with a wee nip of good Scotch, for The Man In Red on Christmas Eve, these would be my Santa Cookies.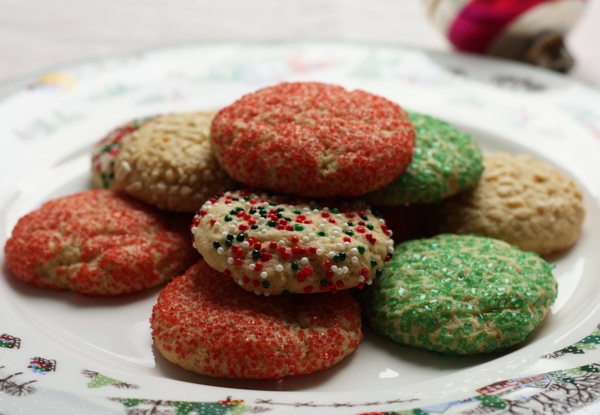 If you'll forgive me a rather odd analogy—given my general opposition to any prefabricated foodstuffs of any kind—these Merrie Cookies kind of taste like a better, homemade version of refrigerated, big-brand slice-and-bake sugar cookies. (You know, minus all the weird preservatives.) And truly, they're almost that easy to make. You can chill this simple sugar cookie dough for 30 minutes, roll it out and cut out festive shapes. Or you can do as I did: Simply form tablespoonfuls of dough into balls, dip them in decorative sugar and flatten them lightly.
In updating the original recipe for these simple almond sugar cookies, I did very little tinkering. I increased the amount of vanilla extract for a stronger flavor, and I re-oriented the instructions so they follow a preparation method for homemade cookies that most modern cooks would recognize.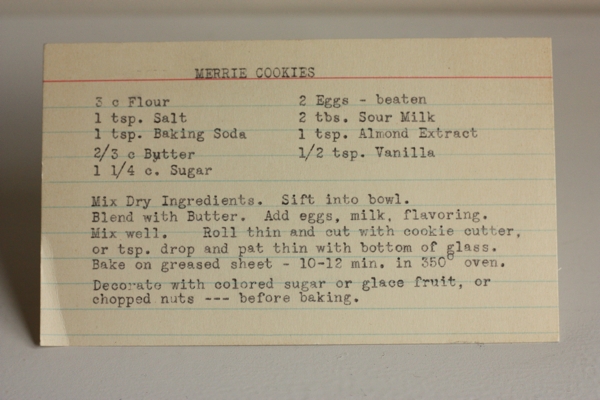 Merrie Cookies (a.k.a., simple almond sugar cookies)
(makes about 5 dozen)
2/3 cup unsalted butter, softened at room temperature
1 1/4 cup granulated sugar
2 large eggs, lightly beaten
2 Tbsp. milk
1 tsp. pure almond extract
1 tsp. pure vanilla extract
3 cups all-purpose flour
1 tsp. salt
1 tsp. baking soda
colored sugars, holiday decors and finely chopped slivered almonds for decorating
Preheat oven to 350 degrees; place parchment paper on one or two baking sheets. Place decorative toppings into individual small bowls.
In a large mixing bowl or the bowl of a stand mixer, stir the butter until it's smooth; add the sugar and cream the two together until they're light and fluffy, about 2 minutes. Add the eggs, milk and extracts; stir to combine. In a medium bowl, sift together the flour, salt and baking soda. Add dry ingredients to the butter/sugar mixture and blend well.
Scoop out 1 Tbsp. of dough and roll it in your hands into a ball. Roll the ball in one of the decorative toppings, covering it about halfway. Place on a cookie sheet and use the bottom of a glass to gently press the ball into a thick disc about 1 1/4-inch in diameter. Repeat with remaining dough. (Alternately, divide the dough in half and flatten each half into a large disc. Wrap in plastic and chill for 30 minutes before rolling the dough out on a lightly floured surface to 1/8-inch thick. Cut out holiday shapes.)
Bake for 12–14 minutes, rotating the pans halfway through baking, until the cookies are just barely golden on the edges. Remove to a wire rack to cool.
---
About The Clara Project
Once a week, I'll make and share a recipe from a collection of vintage recipe cards that were written in the 1930s by Clara Shenefelt. See all the Clara Project recipes.
---