If you've been following along here, you know my love for Findlay Market. It's truly a gem of Cincinnati, a hub where people who grow, produce, raise, sell, buy and love local food come together. Findlay Market is about more than simply transactions, it's about connections and community.
I've been involved in Findlay Market in different ways for many years (including, um, that cookbook I wrote). So you bet I'll be there for the market's signature annual fundraising event, Eat Local for the Globe.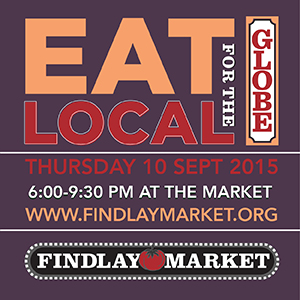 It's such a fun time, a great value (c'mon: where else in town can you enjoy creations by folks like Stephen Williams, Julie Francis, Todd Hudson, Jean-Robert de Cavel, Molly Wellmann and Todd Kelly for $75?) — and a great cause.
Plus, I'll be there signing cookbooks! Join us, won't you? Mark Thursday, September 10 on your calendar and get yer tickets now.