I think of the Spritz cookie as the quintessential Christmas cookie. After all, when are you going to break out the cookie press if not during December? Buttery, with a light kiss of almond and a pretty shape, these cookies play nicely with other sweets you might have for a holiday party or dinner. They're a nice complement to rich chocolate cookies or decorative cut-outs.
I think every general-purpose cookbook I've ever owned includes a recipe for Spritz cookies. Betty Crocker, Better Homes & Gardens, and specialty Christmas cookbooks … you name it. This particular recipe comes from Clara Shenefelt's collection; I tinkered with it slightly, adding a pinch of salt to enhance the flavor and upping the quantity of almond extract by half. I also increased the oven temperature to help prevent the soft cookie dough from spreading during baking.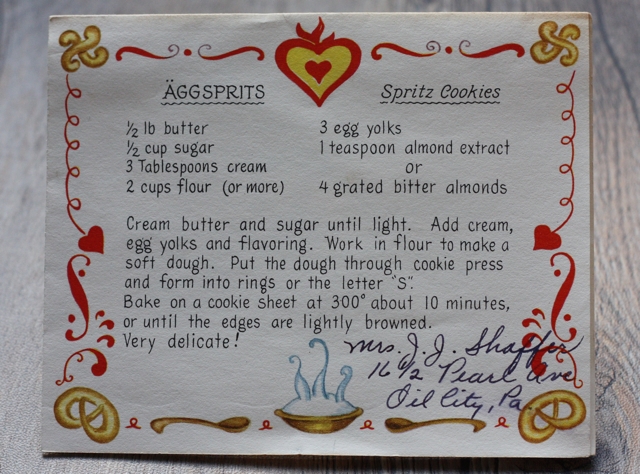 My Mom recalls that the very first cookie she and Grandma ever made with the cookie press was a Spritz recipe. The Classic Almond Wreath cookies that have been part of my family's Christmas cookie tradition for decades are very closely related to the Spritz. No wonder this cookie is beloved in my family: it's an old German recipe, a simple combination of flour, sugar, butter and eggs (the name comes from 'spritz,' the German word for 'squirt'). Squeezed through the star disc of a cookie press, the dough bakes up light and delicate. The high butter content means that these Spritz cookies freeze well; make them in early December and plan to serve them all through the month. Just be sure to reserve a few to leave for Santa on Christmas Eve.
Spritz Butter Cookie recipe
(makes about 3 dozen cookies)
1 cup unsalted butter, softened at room temperature
1/2 cup granulated sugar
3 Tbsp. heavy cream
3 egg yolks (reserve 1 egg yolk for finishing)
1 1/2 tsp. almond extract
2 cups all-purpose flour
1/4 tsp. salt
sparkling or granulated sugar for finishing
Preheat oven to 400 degrees. In the bowl of a stand mixer (or in a large bowl using a hand mixer), cream together butter and sugar until light and fluffy, about 2 minutes. Mix in cream, egg yolks and almond extract. Stir in the flour and salt to combine. Transfer the dough to a cookie press fitted with the star disk, and press the dough into rings or 'S' shapes, directly onto a baking sheet. (Keep any dough that doesn't fit into the press in the refrigerator, and stash the press itself in the fridge between batches to keep the dough cool but not cold.) Whisk the reserved egg white with a few drops of water and brush each cookie very lightly with the egg wash and sprinkle with finishing sugar. Bake for 7 to 10 minutes, until the cookies are set and only lightly brown. Remove the baking sheet and let cool for a few minutes before transferring them to a wire rack to cool completely. (Careful: Spritz cookies are very delicate.)