Snowy meringue cookies, with their airy, melt-in-your-mouth texture, are a staple of many holiday cookie platters. They just look sort of wintery. And their lightness is a nice counterpoint to the fudge, brittle and iced sugar cookies that you'll encounter at this time of year.
Like many of the Christmas cookie recipes I've been sharing, this recipe for nut meringue cookies originates in Clara's collection. I took the liberty of adding dark chocolate to the mix, and I love the combination of toasty pecans, deep chocolate and crispy sweetness.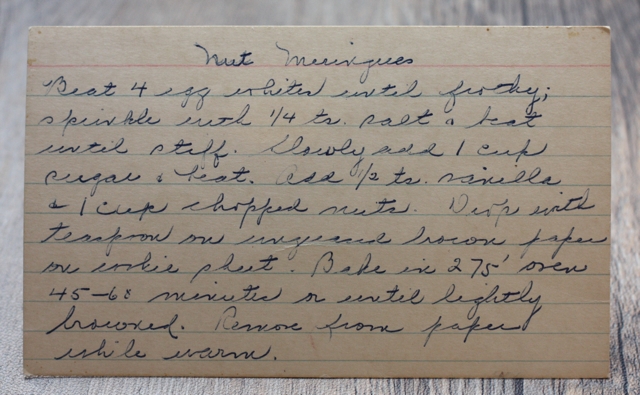 chocolate nut meringue cookie recipe
(makes about 3 dozen)
4 egg whites
1/4 tsp. salt
1 cup granulated sugar
1/2 tsp. vanilla extract
1/2 cup pecans or pistachios, chopped medium-fine
1/2 cup dark or semi-sweet chocolate, chopped medium-fine
Preheat oven to 275 degrees; line 2 baking sheets with parchment paper. In the bowl of a stand mixer (or in a large bowl using a hand mixer), beat the egg whites until they're very frothy. Add the salt, then add the sugar gradually (a couple of tablespoons at a time), and continue beating until the egg whites become thick and glossy and hold firm peaks. Beat in the vanilla. Then gently fold in the nuts and chocolate. Drop by teaspoonsful onto the parchment-lined baking sheets, spacing about 1 inch apart. Bake for 50–60 minutes, or until the meringues are lightly browned.