Surely, you've been to a dinner party or family gathering and tasted something wonderful and asked your hosts: "Can I have the recipe for that?"
My hunch is that's the origin of this recipe for Hot Fudge Pudding Cake. Unlike most of the recipes in Clara Shenefelt's collection (read more about The Clara Project here), this one is typed on a postcard. It reads, "Dear Mrs. Williams (Clara's married name), here's your recipe." Clara jotted a note on the card: "Delicious."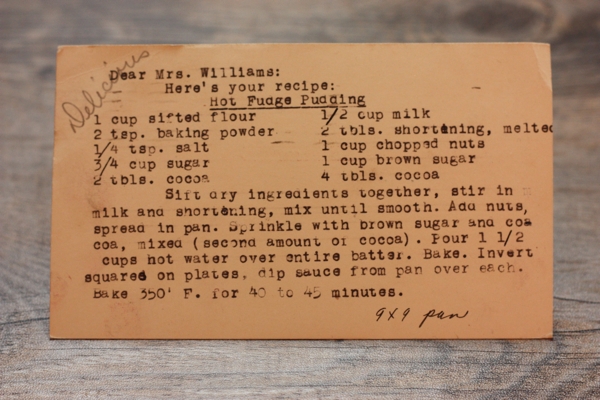 Yes, it is delicious. This old-fashioned hot fudge pudding cake is a miraculous intersection between the two favorite desserts: chocolatey, warm, comforting. It isn't too much to think about serving it by heaping spoonfuls and topped with softly whipped cream.
OLD-FASHIONED HOT FUDGE PUDDING CAKE RECIPE
1 cup sifted all-purpose flour
2 tsp. baking powder
1/4 tsp. salt
3/4 cup granulated sugar
6 Tbsp. unsweetened cocoa powder (divided use)
1/2 cup milk
2 Tbsp. melted butter
1 cup chopped nuts (optional)
1 cup light brown sugar (packed)
1 1/2 cups very hot water
Preheat oven to 350 degrees. Into a large bowl, sift together the flour, baking powder, salt, granulated sugar and 2 Tbsp. cocoa powder. Add the milk and melted butter and stir to combine thoroughly (batter will be thick). Add the nuts if using. Transfer the batter to a 9-inch-by-9-inch baking pan and smooth the top. In a small bowl, mix together the brown sugar and remaining 4 Tbsp. cocoa powder; sprinkle this mixture evenly over the batter. Carefully pour the hot water over the topping. Bake the pudding cake for 40 to 45 minutes; the brownie-like cake will rise to the top, with the fudgy pudding on the bottom. Serve warm, scooping out the moist cake and spooning some of the pudding over each serving.
---
About The Clara Project
Once a week, I'll make and share a recipe from a collection of vintage recipe cards that were written in the 1930s by Clara Shenefelt. See all the Clara Project recipes.
---