If you've dropped in here at writes4food over the past year, you'll know that I'm fond of homemade granola. I've posted several granola recipes: for my Granddad's hearty breakfast granola to my favorite almond-flax granola recipe.
Recently, I thought: What about a savory granola?
I envisioned something I could sprinkle over some cottage cheese or lowfat plain yogurt topped with fresh or roasted cherry tomatoes. Kind of a savory version of my fallback lunch, which is a simple parfait of yogurt, fruit and granola.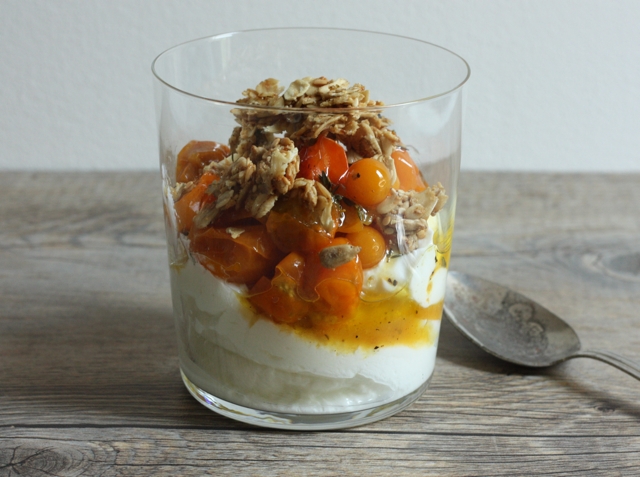 I sniffed around online to investigate flavor options, and settled on fresh thyme and Parmesan. Then I adapted one of my basic sweet granola recipes in this herby-cheesy variation.
This savory granola is terrific as a salad topper and on sautéed vegetables, in addition to the yogurt-tomato combination pictured above. Give it a try and see what other uses you can come up with!
savory granola recipe
2 cups oats
1/2 cup sunflower seeds
2 Tbsp. sesame seeds
1 tsp. seasoned salt
1/4 cup Parmesan
fresh thyme leaves
2 Tbsp. olive oil
1 egg white
Preheat oven to 325 degrees. Line a rimmed baking sheet with parchment paper or foil. In a large bowl, stir together the oats, seeds, salt, Parmesan and thyme. In a glass measuring cup, whisk together the oil and egg white; pour this over the dry mixture and stir well with a rubber spatula to thoroughly incorporate the liquid and dry ingredients. Transfer the mixture to the baking sheet and press it down firmly with the spatula. Bake for 25 minutes, stirring the granola and rotating the pan halfway through the baking time. Reduce the oven temperature to 250 degrees and bake for 15 minutes more. Remove the pan from the oven and let the granola cool and crisp up. Break into large chunks. Store in an airtight container at room temperature for up to 1 month.