I'd never heard of Twin Mountain muffins until I spied the recipe in Clara Shenefelt's collection from the 1930s. (Read more about The Clara Project and the recipes that inspired it here.)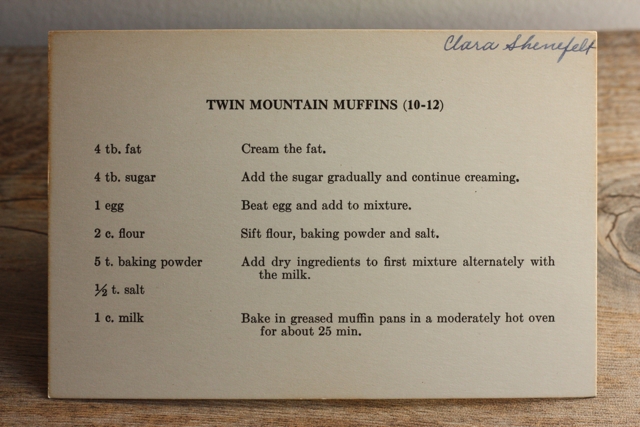 Ahhhh … Google: You answered my question, "Why are these called Twin Mountain muffins?" Turns out, this is an old Fannie Farmer muffin recipe with provenance in Twin Mountain, New Hampshire. It's a staple in many New England kitchens and regional cookbooks.
This is an excellent basic muffin recipe, one that you can adapt with your favorite ingredients. With just 1/4 cup of sugar, these aren't terribly sweet, so you can fold in chocolate chips, or cinnamon chips, or fresh blueberries. Unlike standard muffin recipes I was familiar with, this one uses softened butter instead of vegetable oil. I don't normally bake muffins at home, because I've had inconsistent luck: Sometimes they don't rise well, or they're too dense. But these homemade muffins are lovely: They rise beautifully and they're light and fluffy inside, with a nice golden crust on the top and bottom. This Twin Mountain muffin recipe gets my thumbs-up for sure, and I'll be making these again and again.
I made half a batch of plain Twin Mountain muffins with this recipe, then added chocolate chips and freshly grated orange zest to the remaining batter. If you do add fruit, nuts or flavorings, be sure to fold those ingredients in very gently after you've fully mixed the batter.
Twin Mountain Muffin Recipe
(makes 9 muffins)
4 Tbsp. unsalted butter, softened at room temperature
1/4 cup granulated sugar
1 egg
2 cups all-purpose flour
5 tsp. baking powder
1/2 tsp. salt
1 cup milk
coarse sugar for sprinkling
(see Note for optional add-ins)
Preheat oven to 400 degrees. Lightly grease a muffin pan, or use cupcake liners. Sift together the flour, baking powder and salt into a medium bowl. In the bowl of a stand mixer (or in a large bowl using a hand mixer), cream the butter well, then add the sugar and cream together until the mixture is light and fluffy. Add the egg and mix well. Add 1/3 of the flour mixture and blend well, then add 1/2 the milk; continue mixing, adding the remaining flour, milk, then flour. Stir together well. Gently fold in any additional ingredients. Fill the muffin pan with the batter (an ice cream scoop works well for this); each cup should be just over 1/2 full. Bake for 25 minutes, rotating the pan halfway through baking. Let the muffins cool in their pan for a few minutes before transferring them to a wire rack.
Note: To the basic muffin recipe, you can add your favorite flavors and ingredients. Combinations to consider:
chocolate-chip orange muffins — fold in 1/2 cup chocolate chips and zest from 1/2 a large orange
blueberry muffins — fold in 1 cup fresh blueberries and 1/4 tsp. cinnamon
cinnamon muffins — fold in 1/2 cup of cinnamon chips and sprinkle cinnamon sugar over the muffins before baking
orange cranberry muffins — reconstitute 1/2 cup of dried cranberries in warm water until they soften; drain well and fold into the batter with zest from 1/2 a large orange
---
About The Clara Project
Once a week or so, I'll make and share a recipe from a collection of vintage recipe cards that were written in the 1930s by Clara Shenefelt. See all the Clara Project recipes.
---