A heavy-duty dose of fall weather on Saturday — cool, gray, dark, blustery — made me feel rather lazy. Like, curl up under a blanket and read nap kind of lazy. Good thing my cooking plans for the weekend were likewise low-key. Like this recipe from Clara Shenefelt's collection for Lazy Daisy Cake. (Read about the collection of vintage recipe cards and the project they inspired.)
Lazy, indeed. As in, easy to make and easy to love.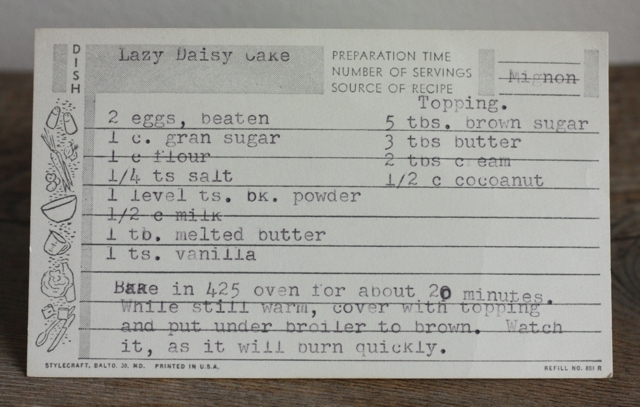 This is a super simple cake recipe that gets a flavor boost from its sweet, creamy, coconutty broiled topping. I'd call this a snack cake (as opposed to a layered or frosted cake), in the same family of easy-to-prepare desserts as this chocolate snack cake.
As I mentioned when I posted my Grandmother's toasted coconut pie recipe, I don't love coconut. (It's a texture thing.) But I happened to have half a bag of shredded coconut leftover from making the pie, so I earmarked Clara's Lazy Daisy cake recipe, with its  broiled coconut topping, to try. It's quite delicious: rich and almost caramelized. Who knows: Maybe I'll become a coconut convert, after all.
lazy daisy cake
(makes 9 pieces)
2 large eggs
1 cup granulated sugar
1 Tbsp. unsalted butter, melted and cooled
1 tsp. vanilla
1 cup all-purpose flour
1/4 tsp. salt
1 tsp. baking powder
1/2 cup milk
for the broiled topping:
5 Tbsp. (lightly packed) brown sugar
3 Tbsp. unsalted butter, melted and cooled
2 Tbsp. heavy cream
1/2 cup shredded coconut
Preheat oven to 425 degrees. Lightly grease and flour an 8-inch square cake pan. In a large mixing bowl, whisk the eggs until frothy, then whisk in the sugar until the mixture is thick and creamy. Whisk in the cooled melted butter and the vanilla. In a medium bowl, whisk together the flour, salt and baking powder. Add 1/2 of the flour mixture to the egg/sugar mixture and combine. Add the milk and stir well, then add the rest of the flour mixture and whisk gently until the mixture is blended and no flour lumps remain. Pour the batter into the prepared cake pan. Bake until the top of the cake is golden and a toothpick inserted into the center comes out clean, about 20 minutes. While the cake is baking, stir together the topping ingredients. When the cake is done, remove the pan from the oven and immediately spread the coconut mixture over the top. Set the oven to broil and place the pan under the broiler until the topping is brown and bubbly. Note: Clara's recipe reads, "Watch it, as it will burn quickly." In fact, I nearly torched the cake because I wasn't attentive. Turn the pan frequently to ensure even browning, and broil for about 2 minutes.
---
About The Clara Project
Once a week or so, I'll make and share a recipe from a collection of vintage recipe cards that were written in the 1930s by Clara Shenefelt. See all the Clara Project recipes.
---