Tucked into the stack of vintage recipe cards that have fueled The Clara Project (learn more about the cards and the cooking project they inspired here) are a number of recipes clipped from The American Home magazine, including this recipe for an old-fashioned coffee cake. My hunch is that these magazine recipes date back to the 1930s or 1940s, based on a Google search that turned up images of pages from the magazine. (The American Home was published from 1922 through 1977.)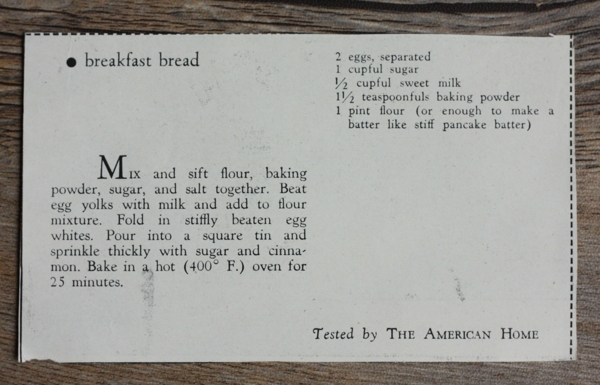 Just as I am today, Clara must have been inspired to try new dishes by recipes she spotted in popular magazines. (My clipped recipes go into a set of 3-ring binders.) Home cooks of that era, like both of my grandmothers, also saved recipes from food manufacturers that were inserted into or printed onto packaging for staples like flour and sugar.
This recipe for "breakfast bread" came from The American Home. It has just 5 ingredients (not counting the cinnamon-sugar topping) and is super easy to whip up. The recipe does not specify ingredients or instructions for the cinnamon-sugar topping, so I've offered a couple of options. The result falls somewhere between a quick bread and a classic coffee cake on the texture spectrum.
Regardless of what you call it—cinnamon coffee cake or cinnamon quick bread—it's lovely with a cup of morning coffee.
QUICK CINNAMON-SUGAR BREAKFAST BREAD RECIPE
(makes 9 to 12 pieces)
2 large eggs, separated
1 cup granulated sugar
1/2 cup milk
1 1/2 tsp. baking powder
2 cups all-purpose flour
pinch of salt
topping 1:
1/2 cup (packed) light brown sugar
1/2 tsp. cinnamon
topping 2:
1/3 cup (packed) light brown sugar
1/3 cup all-purpose flour
1/2 tsp. cinnamon
2 Tbsp. cold butter
Preheat oven to 400 degrees; spray an 8- or 9-inch square baking pan with cooking spray. In a large bowl, whisk together the sugar, flour, baking powder and a pinch of salt. In a glass measuring cup, whisk together the egg yolks and milk; add to the dry ingredients and stir gently just until combined. In the bowl of a stand mixer (or in a large bowl using a hand mixer), whip the egg whites until stiff peaks form. Use a rubber spatula to fold about half of the egg whites into the batter to lighten the mixture, then add the rest of the egg whites and fold gently to combine thoroughly. Transfer the batter to the prepared pan and top with either topping option:
Topping 1: Mix together the brown sugar and cinnamon and spread thickly over the batter.
Topping 2: Mix together the brown sugar, flour and cinnamon; use your fingers to work the butter into the dry ingredients, creating a clumpy mixture. Spread this over the batter.
Bake the breakfast bread for 25 minutes, or until a toothpick inserted into the center comes out clean. Cool and cut into squares. (This cinnamon-y breakfast cake is great served warm.)
---
About The Clara Project
Once a week, I'll make and share a recipe from a collection of vintage recipe cards that were written in the 1930s by Clara Shenefelt. See all the Clara Project recipes.
---