I think I've found Clara.
In doing some research to prepare  an upcoming newspaper article about The Clara Project, I looked a little harder for background information on Clara Shenefelt, whose 1930s-era recipe collection inspired my culinary explorations. My previous searches were unhelpful; the only Clara Shenefelt I found (via Ancestry.com) was born in the 1880s and lived in Wyoming. Chronologically and geographically, it was unlikely that she was the Clara I was looking for.
I had 3 clues to work with:
Clara Shenefelt's name on many of the cards in my vintage recipe collection
a date inscribed on several of the cards: 1934
several handwritten recipe cards bearing Pennsylvania return addresses
I discovered a society column in The Daily Times (serving Beaver and Rochester, PA) dated July 24 1937 (exactly 30 years before my birth). Miss Clara Shenefelt had announced her bridesmaids for her August wedding to Mr. Roy C. Williams. Both were graduates of Penn State University and had parents who lived in Beaver, PA.
The column described in charming detail a bridal shower that Clara's friend had hosted the Friday prior:
As the bride-to-be entered the (hostess's) home, little Jeanne Hosack, dressed as a bride in a fluffy white ankle-length frock and a flowing veil, carrying a Colonial nosegay of pink rosebuds and blue delphinium, descended the stairway, as Miss Bogman played the "Bridal Chorus" from Wagner's "Lohengrin." Following her were the twenty-five guests, girl friends of the honor guest … all in formal gowns, who represented the bride's retinue. They crossed the hall into the living-room, where the bride and her bridesmaids took their places before an improvised rose arbor. The small bride then presented to Miss Shenefelt, who was wearing a lovely formal gown of dawn blue net over matching taffeta, with her nosegay.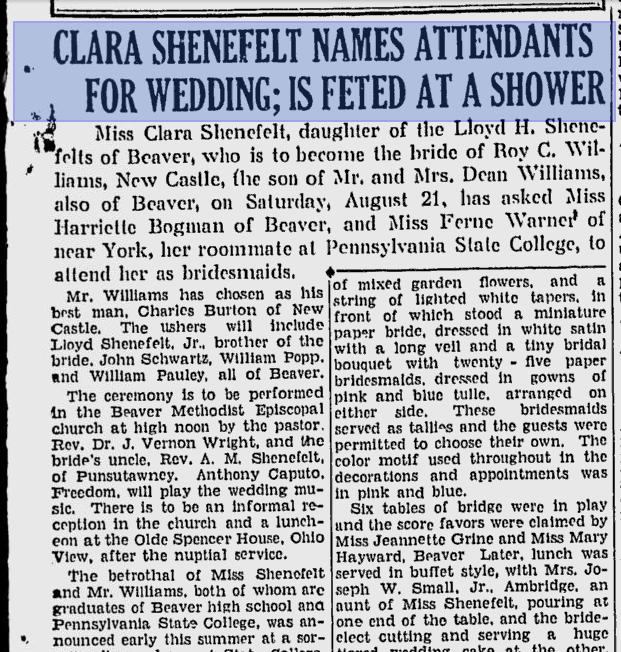 Clara's husband, Roy Williams, died in 2009 in Hamilton, OH, at the ripe old age of 96. I'm unable to locate more information about Clara herself, but I assume she lived in Hamilton during her later years. That likely explains how the recipe collection turned up at Primitives & More in Milford late last summer …
I don't know Clara or her family. But I feel connected to her through her recipes. Food has a way of doing that: connecting us.
---
About The Clara Project
Once a week (or thereabouts), I'll make and share a recipe from a collection of vintage recipe cards that were written in the 1930s by Clara Shenefelt. See all the Clara Project recipes.
---