The omelet (and its wonderfully adaptable Italian cousin, the frittata) is one of those essential dishes that a cook should have in his or her repertoire. If all else fails, and your cupboard is bare save for a few eggs in the refrigerator, you can make a delicious and satisfying meal—one that's healthful, protein-packed and relatively low in calories, to boot.
Among the vintage recipes in the collection I acquired from an antiques shop are a number of these elemental recipes—ones that a 1930s housewife would have been simply expected to know: vanilla ice cream, boiled rice, percolator coffee, muffins, basic white sauce. And several variations on the omelet, including my favorite: a puffy, fluffy omelet that makes a wonderful lunch or brunch. This fluffy omelet recipe adds a step: The egg whites and yolks are whipped separately, then folded together to create a light and airy texture.
Top this easy fluffy omelet with a tablespoon of finely minced fresh herbs—parsley, tarragon or chives (or all three). Make a fantastic breakfast sandwich with a wedge of omelet between two slices of buttered whole-grain toast.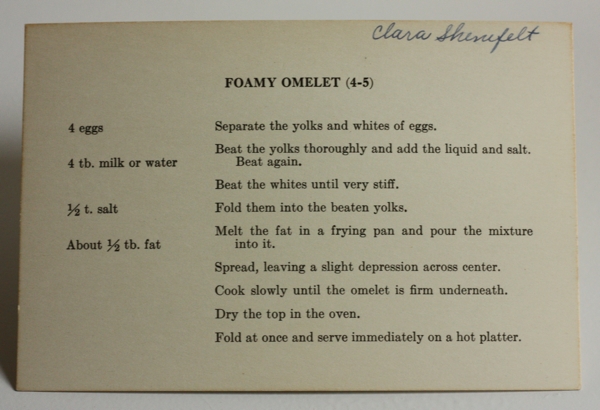 easy fluffy omelet recipe
4 large eggs, separated
4 Tbsp. milk or water
1/2 tsp. salt
1/2 Tbsp. butter
Preheat oven to 450 degrees. In a large bowl, whisk together the egg yolks, milk and salt. In the bowl of a stand mixer (or in a large bowl and using a hand mixer), whip the egg whites until firm peaks form. Use a rubber spatula to fold about a half cup of the egg whites into the yolks (this lightens the mixture), then fold this combination into the egg whites and fold gently to combine well. In a large ovenproof skillet over medium heat, melt butter; swirl the pan around to coat the bottom and sides with melted butter. Transfer the egg mixture to the pan, using the spatula to smooth the top and leaving a slight indentation in the center. Reduce heat to medium-low and cook for 5 or 6 minutes, until the bottom of the omelet is beginning to brown (gently lift the omelet using the tip of your spatula). Transfer the pan to the hot oven and bake until the omelet is dry and pulling away from the sides of the pan, about 2 or 3 minutes. Immediately cut the omelet into wedges and serve hot; it will deflate quickly.
---
About The Clara Project
Once a week, I'll make and share a recipe from a collection of vintage recipe cards that were written in the 1930s by Clara Shenefelt. See all the Clara Project recipes.
---