One of my favorite pasta dishes hails from the Liguria region of Italy. It's an unexpected combination of linguine, new potatoes, green beans and pesto. Pasta and potatoes? You bet: their starchy goodness pairs well together. It's an easy one-pot dish: You add everything to a big pot of well-salted water in succession: first the potatoes, then the pasta, then the green beans—drain the ingredients, toss with an ample spoonful of pesto and tons of freshly grated Parmesan, and you're off.
I wondered, what about creating a roasted-vegetable salad based on this Ligurian classic? Turns out, roasted fingerling potatoes and green beans, with a creamy basil dressing, make a fine salad, indeed.
roasted fingerling potato and green bean salad recipe
(serves 2)
8 to 10 small fingerling potatoes, halved lengthwise
olive oil
1 generous cup slender green beans (fresh or frozen; thawed if frozen), trimmed
1 Tbsp. toasted pine nuts
1 large handful baby arugula, washed and spun dry
for the dressing
1/2 cup low-fat plain Greek yogurt
4 Tbsp. slivered fresh basil
1 Tbsp. sliced scallion greens or chives
1 clove garlic, chopped
2 Tbsp. fresh lemon juice
1 Tbsp. honey
salt and pepper to taste
Preheat oven to 425 degrees; line a rimmed baking sheet with foil. On the baking sheet, toss the halved fingerling potatoes with a drizzle of olive oil, arrange them cut-side up and sprinkle with a bit of salt. Roast for 20 to 25 minutes, until the potatoes are starting to brown in patches. Add the green beans and roast for another 3 minutes. Remove vegetables from oven and cool slightly.
Combine the dressing ingredients in a tall jar and use an immersion blender to whirl everything together until it's a pale green.
Arrange some baby arugula on 2 salad plates; divide the warm roasted vegetables between the two plates and drizzle with dressing. Scatter pine nuts on top and season with coarse salt and pepper.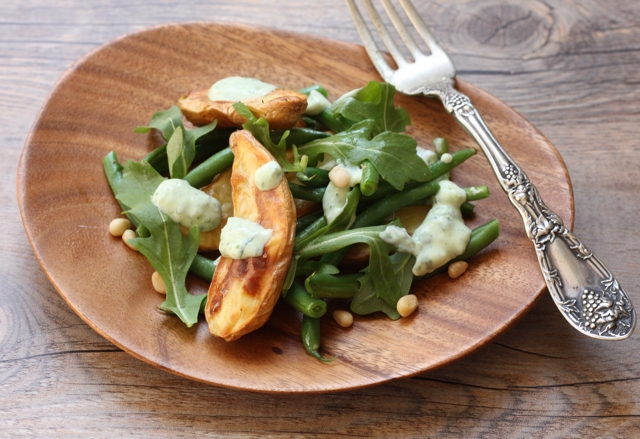 related recipes
roasted carrot and bell-pepper salad with tahini dressing
roasted sugar snap pea salad