About a month ago, I started tinkering around with the idea that salad doesn't have to be about lettuce. I love a savory Caesar or iceberg wedge with blue cheese dressing as much as the next girl. But I wanted to shake up the conventional idea of salad to include different vegetables, add-ons and dressings.
For inspiration, here's a list of interesting salad ingredients to get your creative wheels turning.
This lovely salad of roasted carrots, avocado and toasty croutons from Jamie Oliver sparked a ton of ideas. Oliver notes the recipe's Moroccan inspiration, and it reminded me of our trip to Marrakech a couple of years ago, where the salad course typically involved platters of roasted carrots, peppers, squash, potatoes and other simple vegetables.
I came up with this vegetable salad recipe that combines carrots and red pepper, with the flavors of cumin and tahini for a definite North African vibe. See what this salad recipe might inspire for you!
roasted carrot and red bell pepper salad
(serves 2)
6 slender (about 1/2-inch diameter at the top) carrots, peeled and trimmed
1 red bell pepper, cored, seeded, sliced
olive oil
1/4 tsp. cumin
1/4 tsp. kosher salt
3 Tbsp. tahini (sesame paste)
3 Tbsp. water
1 Tbsp. fresh squeezed lemon juice
salt and fresh ground pepper
1 Tbsp. toasted pistachios
handful of baby spinach leaves, washed and dried
Preheat broiler. Place the whole carrots in the basket of a steamer over boiling water, and steam for 5 minutes. Remove the carrots and halve them lengthwise. Place the carrots, cut side down, and the bell pepper slices on a rimmed baking sheet. Drizzle the vegetables with olive oil and season with cumin and kosher salt. Broil the vegetables for 5 or 6 minutes, until they begin to brown. Remove and let cool slightly.
Make the dressing: Whisk together the tahini, lemon juice and water; season with salt to taste.
To serve, arrange the roasted vegetables on a platter or individual plates. Scatter a few baby spinach leaves around the vegetables. Drizzle with tahini dressing and sprinkle with toasted pistachios.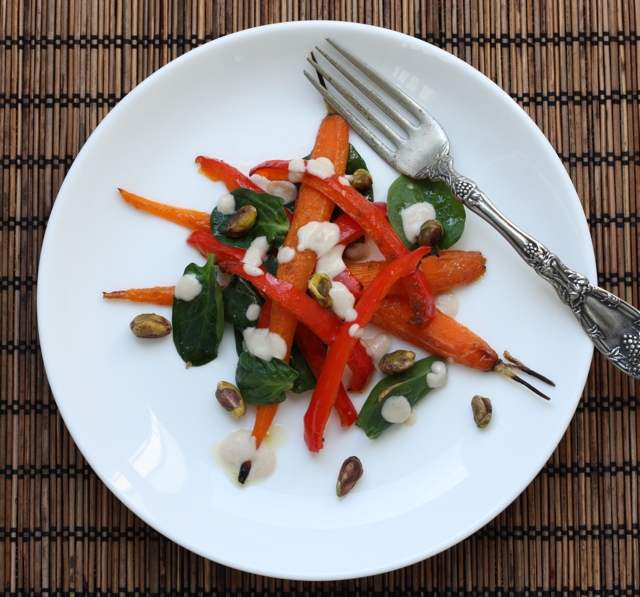 related recipes
roasted sugar snap pea and shallot salad
creamy basil dressing