Rice pudding. I've never made it. Never eaten it. I seem to recall that it was banned in my family because my dad hated rice pudding (or maybe it was tapioca pudding, or maybe both). In an age of fancy constructed desserts and cupcake towers and the like, rice pudding seems so boring.
But, weirdly, I keep running into recipes for rice pudding lately (like here and here). And sure enough, my collection of vintage recipes included a very basic recipe for rice pudding. Clearly, the recipe gods were telling me I needed to explore this sweet comfort classic.
My bias against rice pudding stems in part from my impression that it's sweet but otherwise bland. And Clara Shenefelt's recipe, frankly, did nothing to change that impression. So I borrowed an idea from this rice pudding recipe and added vanilla bean and orange peel. I used arborio rice instead of long-grain rice for a more satisfying texture. And I referred to Mark Bittman's How to Cook Everything to decipher what a "slow" oven means (that's 300 degrees).
This old-fashioned rice pudding is exactly what I thought it would be: sweet, creamy, vanilla-y, comforting.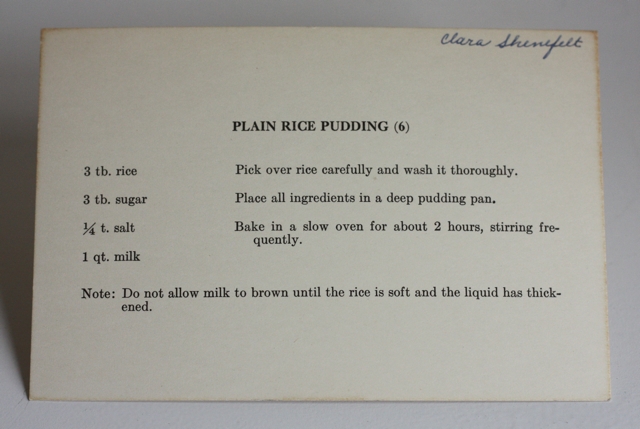 OLD-FASHIONED RICE PUDDING
(makes about 3 cups)
1/3 cup arborio or long-grain white rice
1/3 cup granulated sugar
1 vanilla bean
1 strip orange peel (orange part only), about 1 inch by 3 inches
pinch of salt
4 cups whole milk
optional add-ins: dried golden or dark raisins, cherries or blueberries
optional whipped cream for serving
Preheat oven to 300 degrees. Split the vanilla bean in half lengthwise and use the tip of a paring knife to scrape out the inner seeds and pulp. Combine the vanilla bean halves, the seeds/pulp and the rest of the ingredients in a large ovenproof baking dish. Give everything a stir and set the dish in the oven. Bake for 30 minutes, then stir—if a skin has settled on the milk, just stir it back into the mixture. (You want this; over time, it will brown slightly and add a rich, caramel-y flavor.) Bake 30 minutes more, then stir. Bake another 30 minutes, then stir—and at this point, taste the rice. You'll want a very soft texture—the rice will swell as it absorbs the milk and the mixture will thicken. Bake for another 10 to 30 minutes (thick-grained rice like arborio will need the extra minutes), until the level of rice and milk in the dish is roughly even. The pudding will thicken as it cools. Remove the dish from the oven and let cool for a couple of minutes, then stir in the dried fruit (if using); it will soften as the pudding cools. Serve warm, cold or at room temperature, with a dollop of whipped cream if you'd like.
---
About The Clara Project
Once a week, I'll make and share a recipe from a collection of vintage recipe cards that were written in the 1930s by Clara Shenefelt. See all the Clara Project recipes.
---