In browsing through my 1930s-era collection of vintage recipe cards, and also in paging through vintage cookbooks, it becomes evident that most women had a basic understanding of cooking techniques, probably taught to them by their mothers and grandmothers. Many of these vintage recipes are written with instructions that seem vague to modern cooks accustomed to having every single detail of a recipe spelled out step-by-step. For us, phrases like "bake in a slow oven" or "make a thin white sauce," presented without further instruction or specificity, are befuddling.
That's been part of the fun of The Clara Project: Trying to decipher what's meant in these old recipes. Recognizing that a 1930s one-bowl chocolate cake recipe calling for sour cream meant "soured" heavy cream and not the sour cream we know today. Researching other recipes to determine that a "slow" oven is about 300 degrees. Knowing how to make a thin white sauce.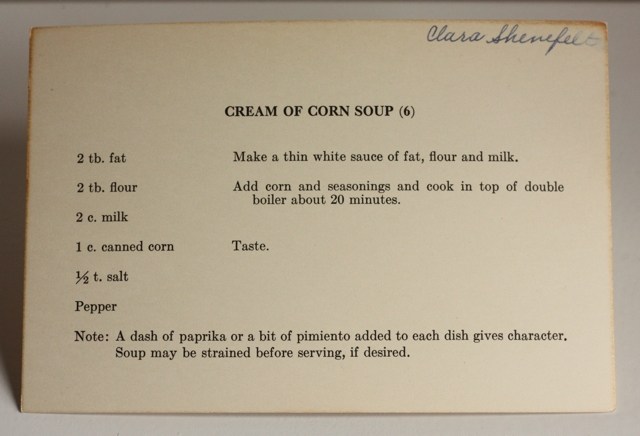 Clara Shenefelt's recipe for cream of corn soup included one of those nonspecific instructions: Make a thin white sauce. And, in fact, making a thin white sauce is one of those things a capable cook should know how to do (see instructions in the recipe).
This simple soup recipe is delicious in a comforting and old-fashioned sort of way. I fiddled with the recipe a bit, using frozen fresh corn that I'd stashed in the freezer at the height of last summer's bounty instead of canned corn, and increasing the amount of corn by half to build flavor. And I agree with her note that "A dash of paprika or a bit of pimiento added to each dish gives character."
Character, indeed.
OLD-FASHIONED CREAM OF CORN SOUP
(makes 3 cups)
2 Tbsp. unsalted butter
2 Tbsp. flour
2 cups whole or 2% milk
1 1/2 cup frozen corn kernels
1/2 tsp. salt
fresh fine-ground pepper
toppings: crumbled bacon, finely diced red bell pepper, crème fraîche or sour cream
Make a thin white sauce: Melt butter in a heavy saucepan over medium heat; sprinkle flour over melted butter and whisk well to combine. Season with 1/4 tsp. salt and cook, stirring constantly, for 2 minutes or until the paste is slightly golden and smells toasty. Very slowly whisk in the milk, a bit at a time. The mixture will seize up into a thick paste; don't worry, just keep adding milk gradually and whisking well until the mixture thins and smooths out. After you've added the milk, bring the soup base to a gentle boil and cook for about 6 minutes, stirring occasionally as it thickens (look for a ring of fine bubbles around the perimeter of the pan). Add the corn and 1/4 tsp. salt, stir well. Lower the heat slightly and simmer the soup for 20 minutes, until the corn is thoroughly cooked and the soup is chowder-ish in texture. Taste and add a pinch of salt if needed. If you'd like, let the soup cool for a few minutes, then use a blender or stick blender to puree the soup to a texture you like. Like most soups, this improves in flavor after a day in the fridge. Reheat very gently to prevent scorching. Serve with toppings of your choice.
---
About The Clara Project
Once a week, I'll make and share a recipe from a collection of vintage recipe cards that were written in the 1930s by Clara Shenefelt. See all the Clara Project recipes.
---