Simple is harder than it looks.
So said Chef Michael Paley of Cincinnati's new Metropole restaurant when I interviewed him recently for an Edible Ohio Valley profile. And generally, I agree that when it comes to really great food, simple can be deceiving: Often, a simple dish is made up of the best ingredients prepared in the most careful of ways.
But here's a pasta recipe where simple means simple. A few vegetables, quickly sautéed in olive oil and stirred together with the right pasta shape makes for a dish that's as easy to make as it is delicious.
Here are a few things to note when you're making this easy pasta recipe:
First, choose a pasta that 'fits' your vegetables. For this kind of pasta dish, we love orecchiette—the little ear-shaped pasta whose bowl-like nature perfectly scoops up all those lovely diced vegetables and sauce. If you haven't cooked with orecchiette before, I'd encourage you to purchase a package and give it a spin. Use a slotted spoon to transfer the cooked orecchiette to your pot of sauce without draining, and you probably won't have to add any pasta water to thin the sauce.
Second, this pasta recipe is endlessly flexible. Use whatever vegetables you have on hand: mushrooms, corn, zucchini, butternut squash, potatoes, onion, garlic, tomatoes, broccoli florets, green beans, canned chickpeas or cannellini beans—any or all of these would be good. If you're so inclined, throw in a big handful of chopped fresh cooking greens (spinach,  kale, chard) and/or fresh basil or parsley at the end. Here are a few combinations to get you thinking:
mushrooms, garlic, roasted red pepper
cannellini beans and tomato
butternut squash, onion and chard
broccoli, zucchini and spinach
potatoes, green beans, basil, pine nuts
Third, you'll want a bit of richness, given the freshness of the vegetables; a tablespoon or two of chopped bacon and/or butter stirred in at the end deepens the flavor. For a vegetarian option, simply skip the bacon.
simple pasta with vegetables
(serves 2)
2 cups dried orecchiette pasta
2 Tbsp. olive oil
2 medium zucchini, diced
3 cloves garlic, minced
1 cup frozen or fresh corn
2 or 3 fresh, ripe plum tomatoes, chopped
2 Tbsp. toasted pine nuts
1 Tbsp. butter
2 Tbsp. crumbled cooked bacon (optional)
1/4 cup freshly grated Parmesan cheese
salt and freshly ground pepper
Bring a pot of well-salted (it should taste like sea water) to a boil and cook pasta according to package directions. In a large skillet, warm the olive oil over medium heat until it shimmers. Add zucchini and a generous pinch of salt and stir to combine. Cook zucchini over medium heat until it begins to soften, about 5–7 minutes. Add garlic and cook for 1 minute. Add corn and tomatoes and another generous pinch of salt; cook until heated through and the tomatoes release some of their juices. Add pine nuts and butter; stir and cook for about a minute. Use a slotted spoon to scoop the pasta from its cooking pot into the skillet with the vegetables; add bacon and Parmesan and stir over medium heat until the pasta is well-coated and the sauce thickens slightly (add some reserved pasta cooking water to thin the sauce if needed). Season to taste with a bit more salt if needed and lots of freshly ground pepper.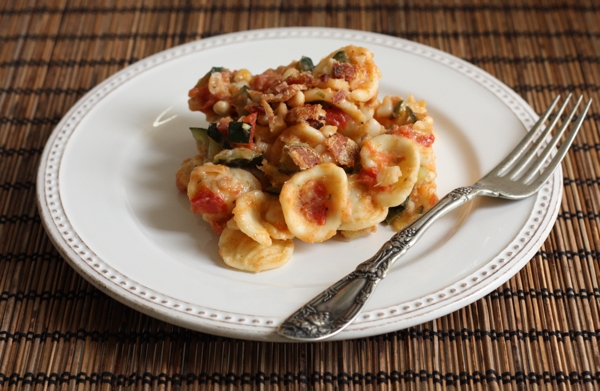 related recipes
pasta with kale, bacon and fontina