I've been thinking a lot lately about salad. Specifically, about how salad can be so dang boring in winter, a time of scarcity for local produce. There's only so much you can do with a head of leaf lettuce, you know? Add-ins for the typical lettuce salad are kinda slim right now: cherry tomatoes are hard as marbles, shaved carrot and sliced radish are so, I dunno, lame.
We have the French to thank for our notion that salad should be lettuce-based. And while I do love a good wedge of iceberg with the very best blue cheese dressing (ever), or a bed of sweet butter lettuce with a splash of olive oil, good vinegar and snipped herbs, I've lately been expanding my salad horizons.
In part, this is due to two meals I've enjoyed recently at Metropole, where chef Michael Paley and his team offer a completely untraditional take on salad. And in part, this new thinking about salad was sparked by Tamar Adler's lovely book, An Everlasting Meal (about which I'll post more soon). Both Paley and Adler think of salad not as a pile of lettuce with some other stuff on it, but as compositions of seasonal vegetables, lightly dressed, that fit our vision of "side dish" more than they do "salad." Too, I've recalled our trip to Marrakech 2 years ago, where "salad" meant a lush platter of roasted, steamed or boiled vegetables like red pepper, potato, onion, carrot.
So, here's my point: Maybe it's time to think of salad as something other than lettuce. Maybe it's time to get creative. This fresh, seasonal salad recipe is more like a formula, and it's super flexible:
Start with a seasonal vegetable or two, lightly steamed or roasted to crisp-tender and served at room temperature. Good candidates include sweet or fingerling potatoes, sugar snap peas, asparagus, carrots, summer or winter squash, onions or shallots.
Add snipped fresh herbs for flavor—chives, mint, tarragon, basil, arugula
Add a crisp vegetable for texture—thin slices of radish, bell pepper, celery, fennel, fresh peas, shelled edamame
Layer on an ingredient that's rich or creamy—avocado, goat cheese, feta, bacon
Toss with a simple vinaigrette—see the creamy salad dressing recipe below, or if the barely cooked egg doesn't appeal, try any of these four options:
roasted sugar snap pea and shallot salad
(serves 2)
for the salad
6 ounces sugar snap peas, trimmed
1 medium shallot, peeled and sliced very thin
1 small stalk celery, sliced very thin
2 or 3 radishes, sliced very thin
1/2 avocado, peeled and cubed
1 Tbsp. fresh mint leaves, chopped
kosher salt and fresh cracked pepper
Preheat broiler. Toss the sugar snaps and shallot slices with a splash of olive oil, season well with kosher salt and spread in a single layer on a foil-lined, rimmed baking sheet (sugar snaps on one half of the pan; shallots on the other). Broil for 3 to 4 minutes, until the sugar snaps begin to blister and brown in spots; remove the sugar snaps from the pan to a plate and refrigerate immediately to stop cooking. Continue roasting the shallots for 3 to 5 minutes more, until they're mostly crisp and brown.
About 1/2 hour before serving, remove the roasted sugar snaps from the refrigerator to bring to room temperature. Combine all the salad ingredients in a bowl and season with salt and fresh cracked pepper. Toss with as much dressing as you'd like.
for the dressing (from The New York Times)
1 very fresh egg
1/4 cup freshly squeezed lemon juice (from about 1 1/2 lemons)
1/2 cup good extra-virgin olive oil
sea salt and fresh ground pepper
Place the egg in a glass measuring cup. Bring a pot of water to a boil and pour the boiling water over the egg; cook for 1 minute, then run cold water into the cup to stop the cooking. Crack the egg to a deep glass jar and add lemon juice and olive oil; use a stick blender to whirl to combine and emulsify. (Alternately, whisk the dressing ingredients together in a large bowl.) Season with salt and pepper. Refrigerate for 1 to 2 days.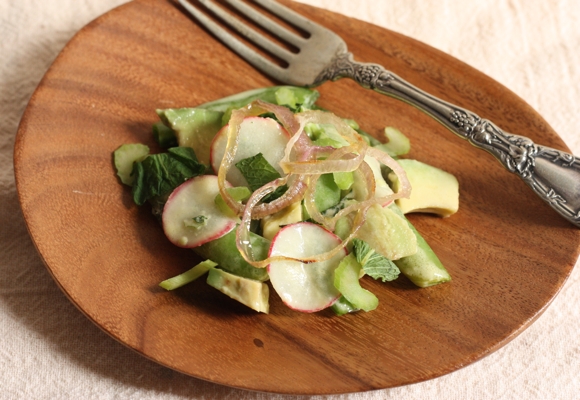 So what do you think? Experiment with your own composed, seasonally inspired salads, and share your ideas here.