I know: Salad for dinner. It just sounds so, I dunno, uninspiring. But I love a really hearty salad for dinner—one that's full of flavor, texture (um, and maybe a bit of cheese) along with greens and veggies. We're not talking iceberg-and-carrots here, folks. No, I wanted to create a stick-to-your-ribs salad that incorporates a bit of protein (chicken, in this case) plus whole grains (wild rice) and a creamy dressing that packs a punch. Even better: This salad stores and travels well (just add the dressing right before you serve it), so it's an easy make-ahead recipe and it'd be great pack-your-lunch option. The salad dressing, with its pretty pale green color and kick of garlic, is super flexible—it's joined my basic vinaigrette recipe and my best blue-cheese dressing recipe as standards in my kitchen.
hearty wild rice, orzo and chicken salad

(serves 4)
1 cup cooked wild rice
1 cup cooked orzo
1 1/2 cups diced cooked chicken (grilled or store-bought rotisserie)
1 red bell pepper
1/2 apple
1/3 cup dried cranberries
1/2 head radicchio
1 head Belgian endive
1/2 cup crumbled blue cheese (optional)
1 recipe creamy basil salad dressing
Place wild rice, orzo and chicken in a large bowl. Dice the bell pepper and apple into roughly 1/2-inch chunks, and add those to the bowl. Slice the radicchio half lengthwise, then crosswise into thin strips; slice the endive in half lengthwise, then crosswise into thin strips. Add radicchio, endive and dried cranberries to the bowl, along with the blue cheese if you're using it [of course you are]. Drizzle with half the creamy basil dressing and toss to coat, adding more dressing if needed. Season well with salt and pepper to taste.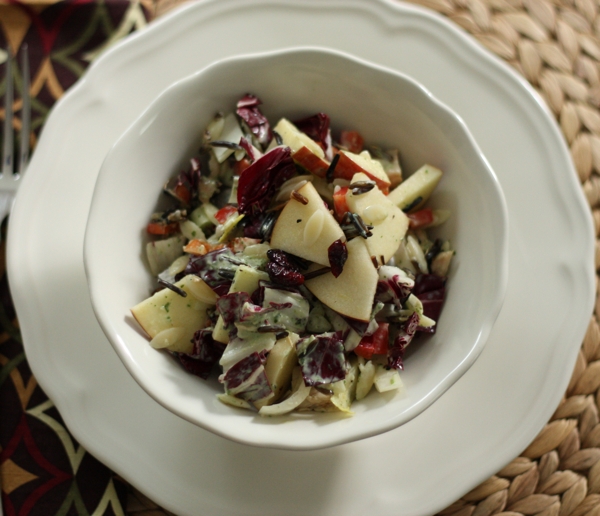 related recipes
farro and roasted butternut squash salad
a hearty salad with many variations