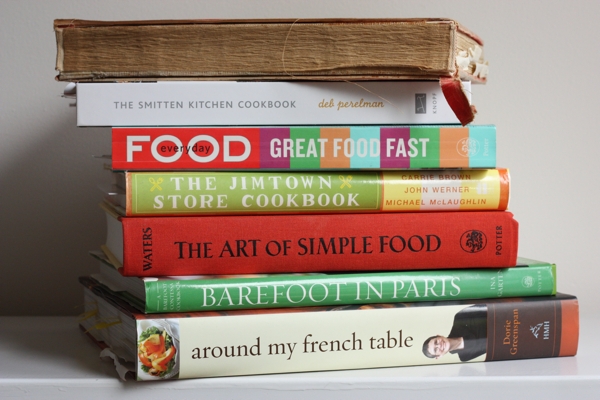 I don't want to count the number of cookbooks and cooking magazines in my home, but suffice it to say: it's a lot. Friends and family give me cookbooks as gifts. I have nearly a decade's worth of old Bon Appetit magazines on file (and yes, I do cook from them).
So last week when I was browsing the bookstore for something entirely different, I did something against my better judgment: I bought another cookbook. Couldn't help myself. Deb Perelman's The Smitten Kitchen Cookbook, inspired and informed by her Smitten Kitchen blog (of which I'm a huge fan—gush!) is beautiful and yummy and clever and, well, I had to have it.
Which got me thinking: Among my library of cookbooks, which ones do I, you know, use? Which ones do I love? Which ones would I take to a desert island? And which ones would I recommend to fellow cooks without hesitation?
These.
my very favorite cookbooks
The Betty Crocker Cookbook
I took my 20-year-old version of Betty to sell at Half Price Books last week, instead preferring my Grandmother's 1950 edition, with its tattered cover and foxed pages. For a newbie, a basic guide like Betty is the textbook that can teach you how to cook. If I need to double-check a cooking time or confirm a recipe in my Clara Project, I refer to Betty.
The Smitten Kitchen Cookbook by Deb Perelman
If you follow Deb's blog (and you should), you recognize her unique, here's-how-it-is voice. Her passion for cooking, her skill in adding a fun twist to just about any recipe, her lovely photographic style. They're all here in this newly published cookbook. Judging from the confetti of page flags poking out the top, The Smitten Kitchen Cookbook will keep me busy for awhile.
Great Food Fast from Martha Stewart Living
For years, I subscribed to the now-defunct Everyday Cooking magazine, the little digest-sized publication packed with weekday-friendly dinner ideas. And I love Great Food Fast, which compiles 250 recipes from the magazine. The recipes are easy and reliably delicious. I love the organization: Recipes are presented by season, and then grouped according to course (salads, soups, mains, sides, desserts) and by ingredient (pasta, vegetarian, beef, chicken, seafood). If I'm stumped for dinner ideas on a winter Tuesday, here's where I go for inspiration. And chances are, I have all the ingredients already on hand.
The Jimtown Store Cookbook by Carrie Brown and John Werner
Some of my favorite recipes that I've shared on writes4food—the very best chocolate pudding EVER and equally sublime donut muffins—come from The Jimtown Store Cookbook. But more than that, I love this cookbook simply because it's a tasty reminder of pleasant afternoons spent under the grape arbor at this roadside market in Sonoma County, California.
The Art of Simple Food by Alice Waters
The title pretty much says it all. It's more than just a cookbook: The Art of Simple Food shares the celebrated chef's ideas and ideals on cooking with seasonal, local ingredients. It celebrates well-prepared, humble dishes and explains common cooking techniques. If I need to roast a chicken, make a basic vinaigrette, prepare guacamole or other essential dish, I'll see what Alice has to say about it. When you're working with great ingredients, you don't want to overdo or mess up; Alice makes sure you do it right.
Barefoot in Paris by Ina Garten
Of all the celebri-chefs out there, I like Ina Garten best because her approach mirrors my own. Her recipes are casual and uncomplicated—but they're always foolproof and delicious. Barefoot in Paris takes an easy, unfussy approach to French food. I pull this book off the shelf regularly.
Around My French Table by Dorie Greenspan
If you want to delve deeper into classic French cooking without going the whole "Julie and Julia" route, then this is the roadmap to consult. This book, too, is studded with page flags marking recipes I want to try. Dorie's recipes are more involved than Ina's—it is French cookery, after all—but they seem more modern and approachable than Julia Child's classic French recipes.
Tell us about your favorite cookbooks—please share in the comments section!