In the throes of January, I miss simple summer salads, the ones no more complicated that a few slices of garden-ripe tomato and good olive oil, salt and pepper. You just can't pull that off in the wintertime, not with those red cue balls masquerading as tomatoes on grocery shelves.
These days, I'm after something a little heartier and certainly more seasonal, salads that can hold their own alongside a good stew or roast chicken. And this recipe for a fine wintertime salad, with peppery arugula, sweet winter squash and tangy blue cheese is right there. It's roughly inspired by one I enjoyed recently with a couple of writer friends for lunch at Jean-Robert's Table, the terrif French restaurant in Cincinnati. My version isn't quite as lovely to look at as JR's, but it's mighty tasty.
And while we're exploring winter salads, stay tuned for a recipe that includes citrus and avocado, two produce favorites that are in season right now …
simple shallot vinaigrette
1 Tbsp. white wine or champagne vinegar
1 tsp. Dijon or whole-grain mustard
1/2 tsp. finely minced shallot
3 Tbsp. olive or grapeseed oil
salt and freshly ground pepper
winter salad with butternut squash and arugula
(serves 4)
1 medium butternut squash, peeled and seeded
1 package baby arugula, washed and spun dry
handful of toasted pepitas or sunflower seeds
2 ounces good blue cheese (I prefer Maytag for its balanced flavor and creaminess)
Slice the neck of the squash into matchsticks; transfer them to a steamer basket set over boiling water and steam the squash until it loses its raw taste and is cooked but firm (and not breaking apart), about 5 minutes. Remove the steamer basket carefully from the pot and run cold water over the squash to stop the cooking.
Place the arugula in a large bowl and season it lightly with salt and pepper; drizzle over about a third of the dressing and toss to coat. Portion the salad onto four salad plates; scatter some of the butternut matchsticks, pepitas or sunflower seeds and crumbled blue cheese over each serving. Drizzle with additional dressing if you'd like.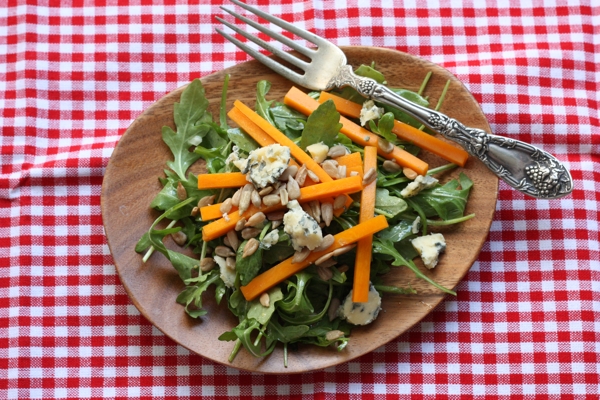 other recipes you might like
arugula salad with cranberries and pistachios