As I've been perusing Clara's recipe collection (learn more about The Clara Project and the vintage recipes that inspired it) this month in search of holiday-worthy cookies, I've found a number of mouth-watering options that aren't necessarily Christmas-ish. Like a recipe for old-fashioned nut squares, which was clipped out from an issue of The American Home magazine, quite possibly in the 1930s. At this time of year, I really appreciate a buttery, nutty cookie amidst all the frosted, decorated ones.
I was muttering under my breath as I made and baked the recipe: "I just don't know how these are going to turn out." The baking time and temperature seemed all wrong, and I was unsure about the egg-white-brown-sugar topping. In my mind's eye, these cookies were going to be delicious … if the recipe worked.
It didn't.
Even after raising the oven temperature and doubling the baking time, the cookies came out completely raw in the middle. And while the meringue-ish topping seemed a good idea on paper (very old paper), in reality it was a gritty, shattering mess. I threw the whole batch into the trash and decided I wasn't going to even try to renovate this recipe.
But I still had my heart set on a buttery, nutty bar to add to my Christmas cookie platter. So I (gently) opened my Grandmother's 1950 edition of the Betty Crocker Picture Cook Book and on page 192 found a recipe for Toffee-Nut Bar Cookies. Or, as I've decided to rename them, Pecan Pie Bar Cookies.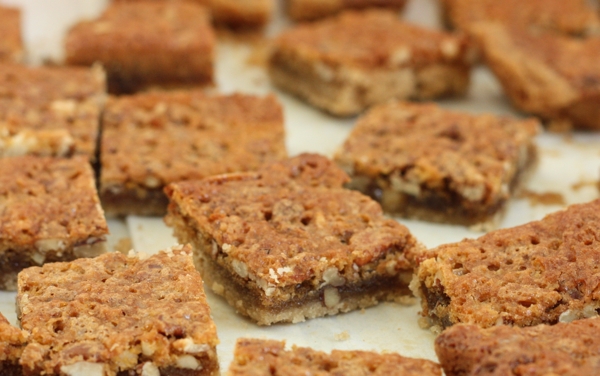 And boy, are these good: rich, nutty, sweet. They resemble a much easier version of those mini pecan pies (or Pecan Tassies) that you find this time of year.
Now, you may be tempted to trim off the outside edges of these pecan bar cookies in order to make them tidy and square … but under no circumstances should you throw said outside edges into the trash. No, no, you'll want to nibble on those yourself; they may be the very best part. Cut these bar cookies into small, two-bite squares; they're rich enough that smaller is better.
pecan pie bar cookies
(makes about 30 bars)
for the cookie layer:
1/2 cup vegetable shortening (or use 1/4 cup shortening and 1/4 cup softened unsalted butter)
1/2 cup brown sugar (lightly packed)
1 cup sifted all-purpose flour
Preheat oven to 350 degrees. Blend together all ingredients to combine and press evenly into an ungreased 9-inch-by-13-inch pan lined with parchment, if desired. (This is kind of tedious, as the crust is very thin.) Bake for 15 minutes.
for the topping:
2 eggs, beaten
1 cup brown sugar (lightly packed)
1 tsp. vanilla
2 Tbsp. all-purpose flour
1 tsp. baking powder
1/2 tsp. salt
1 cup moist shredded coconut (I omitted this)
1 cup coarsely chopped unsalted pecans or slivered almonds (or a mixture)
In a medium bowl, whisk the eggs; add brown sugar and vanilla and blend well. Add flour, baking powder and salt and stir to combine. Stir in coconut (if using) and nuts. Spread topping over cookie layer and return the pan to the oven. Bake 25 minutes, until topping is golden brown. Cool  slightly and then cut into bars or squares.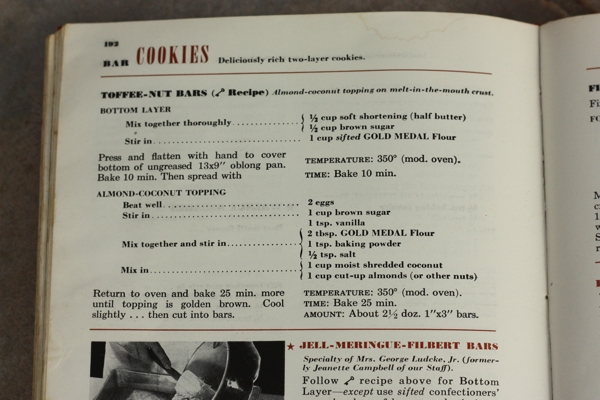 ---
About The Clara Project
Once a week, I'll make and share a recipe from a collection of vintage recipe cards that were written in the 1930s by Clara Shenefelt. See all the Clara Project recipes.
---