Much as I love sweet, raisin-studded or jam-filled scones for breakfast, sometimes I'm in the mood for something savory. And I'm a sucker for cheddar scones. My love for these flavorful, cheese-studded beauties is inspired by the Downtown Bakery and Creamery in Healdsburg, CA, which makes the perfect version (theirs are made, I think, with a hefty dose of whole-wheat flour).
Recently, I scouted the internet for a good cheddar scone recipe, and was surprised to find few options. I sampled one variation and was unsatisfied with the results (they didn't rise as high as I wanted them to). So I turned to my favorite source for baking recipes, King Arthur Flour. Sure enough: a recipe for bacon-cheddar-chive scones.
Now, I know what you'll think when I say this, but I wasn't in the mood for bacon. It seemed to me like gilding the lily. No, I just wanted cheese in my scones, and lots of it. See the original recipe if you'd like the full-on, bacon-ful version, or try the cheese-only one I tinkered with.
cheddar scones
(adapted from King Arthur Flour) makes 6 to 8
2 cups all-purpose flour (I used 1/2 cup of white whole-wheat flour and 1 1/2 cups of all-purpose)
1 tsp. salt
1 Tbsp. baking powder
2 tsp. sugar
4 Tbsp. (1/2 stick) cold unsalted butter
1 cup (4 ounces) diced sharp cheddar (see Note)
1/4 to 1/3 cup snipped fresh chives
3/4 cup whipping cream or half-and-half plus 2 Tbsp. for brushing the scones
Preheat the oven to 450 degrees and place a sheet of parchment on a baking sheet. In a large bowl, whisk together the flour, salt, baking powder and sugar. Cut the butter into large chunks and work it into the flour mixture with your fingers or a pastry blender, until it's coarsely crumbly and there are pea-size bits of butter. Add the cheddar and chives, and stir gently to incorporate well. Add 3/4 cup of half-and-half or cream and stir gently with a wooden spoon, stirring up the floury bits at the bottom of the bowl but being careful not to overwork the dough. If the dough is too dry and crumbly, add more cream or half-and-half, about 1 tsp. at a time, until it comes together. Transfer the lump of dough to the baking sheet and knead it gently a couple of times to ensure that all the flour is incorporated, then pat into a round about 1 inch thick. Use a knife or a bench scraper to cut the round into 6 or 8 wedges (depending on how hungry you are at that very moment); separate the wedges slightly. Brush the wedges with some of the remaining 2 Tbsp. of cream/half-and-half to ensure that the tops are nicely browned; sprinkle with poppy or sesame seeds if you'd like. Bake for 22 to 25 minutes, until golden brown.
Note: You can coarsely shred the cheese if you'd like, but I love the little pockets of melty cheese that are created by mixing diced cheddar into the dough. Cut the cheese in roughly 1/4-inch dice.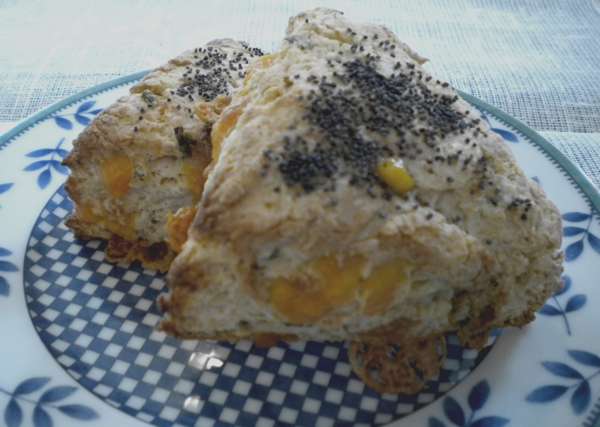 related recipes