Ahhhh, the croquette. That classic deep-fried combination of cooked meat, cream sauce and breadcrumbs. Now, that description doesn't do the croquette justice, as we'll see …
Many cuisines around the globe embrace some variation on the croquette (or croqueta) as a snack or street food: Spanish jamón croquetas, Indian potato aloo, the Scotch Egg, German potato croquettes. Here in the U.S., seafood croquettes made of shrimp, salmon or other fish are a southern staple. And, really, the Maryland crab cake is essentially a croquette.
Clara Shenefelt's recipe box included a couple of iterations on the croquette: one with cod and the other a classic chicken croquette. Which is where we turn for this week's installment of The Clara Project. (Read more about the project and the 1930s recipes that inspired it.) I fondly recall chicken croquettes from my childhood: creamy, intensely chicken-y, with a crunchy outer coating.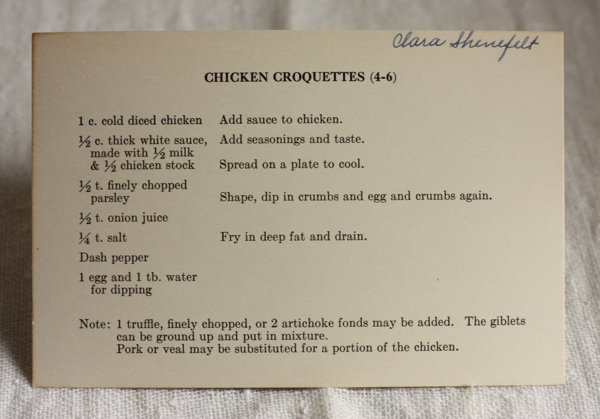 Croquettes are a great use for leftovers; in fact, I'd suggest you bookmark this recipe for post-Thanksgiving roast turkey and gravy. The premise is simple: cooked chicken, a bit of cream sauce to bind it, shaped into balls or patties, rolled in breadcrumbs and sautéed or fried. Clara's recipe for classic chicken croquettes referenced a separate recipe for basic white sauce, which I'll share with you here. (Note: This basic white sauce recipe is fantastic, and should be part of every cook's basic repertoire.)
You can shape and cook these chicken croquettes in a couple of different ways. Divide the mixture into 6 or 8 portions, shape into balls or cylinders, bread as directed and deep fry in about 2 inches of oil heated to 350 degrees. Or make 4 portions and shape them into patties; these can be pan sautéed in about 1/4 cup of oil. (While I did not test this method, I think these croquettes could also be oven-baked at 400 degrees for 15 minutes or so; spray the patties lightly with olive oil cooking spray before baking.) Clara's original recipe called for onion juice (which strikes me as some kind of weird, artificial flavoring thing); I substituted very finely minced fresh onion.
As a main course, chicken croquettes sort of cry out for a simple green vegetable on the side; we enjoyed roasted broccoli with these. Rob and I both thought these were fantastic: flavorful, crunchy, comforting. 
basic white sauce recipe
4 Tbsp. unsalted butter
4 Tbsp. flour
1/2 cup milk
1/2 cup chicken broth
1/4 tsp. salt
In a medium saucepan, heat the butter until it's melted a foamy. Quickly whisk in the flour a tablespoon at a time; this butter-flour combination is called a roux. The roux will seize up and resemble something akin to wallpaper paste; this is OK. Cook the roux, whisking constantly, for about 90 seconds. Add the milk a little bit at a time, whisking constantly to incorporate. The first addition of milk will sort of curdle, but keep whisking and adding milk until you have a smooth, thick sauce. Whisk in the chicken broth and salt. Cook at a near boil for 2 or 3 minutes, until the sauce is smooth and thick. Set aside to cool. Use 1/2 cup of sauce for the croquettes. Reheat the rest of the sauce over medium-low heat and whisk in another 1/3 cup of chicken broth to make a sauce for serving.
classic chicken croquettes
(serves 4)
1 cup finely diced cooked chicken
1/2 cup basic white sauce (above)
1 Tbsp. finely minced parsley
1 tsp. finely minced onion
1/4 tsp. salt
fresh ground pepper
1 egg mixed with 1 Tbsp. water (for dipping)
1 cup plain or panko breadcrumbs (for breading)
Mix together diced cooked chicken, sauce, parsley, onion, parsley, salt and pepper. Chill for 30 minutes or so. Divide the chicken mixture into 4 or 6 portions, and shape them into balls, cylinders or patties as desired. Roll each croquette in breadcrumbs, then in egg mixture, then in breadcrumbs again. Set aside.
For deep frying: In a heavy stock pot, heat about 2 inches of canola or other neutral oil to 355 degrees. Carefully transfer croquettes to hot oil and cook, turning, until they're evenly deep golden brown.
For pan sautéeing: In a heavy skillet, heat 1/4 cup of canola or other neutral oil over medium-high heat; test the readiness of the oil by dropping a few breadcrumbs in (the oil is hot enough when the crumbs sizzle and brown almost instantly). Transfer croquettes to the pan; cook for 3 minute until golden brown, then turn and cook for another 2 to 3 minutes.
To serve the croquettes, spoon some of the white sauce onto a plate, then top with a croquette and sprinkle with finely chopped fresh parsley.
---
About The Clara Project
Once a week, I'll make and share a recipe from a collection of vintage recipe cards that were written in the 1930s by Clara Shenefelt. See all the Clara Project recipes.
---