On a crisp fall day, here's what you want: Something warm and comforting, fragrant with apples and spices. Hot spiced cider, perhaps. Or, maybe … cake.
This old-fashioned applesauce cake recipe was a delight to find in my collection of vintage recipes (read more about The Clara Project and see the other old-fashioned recipes we've explored together)—perfectly in sync with the season.
It's much like a quick bread, baked in a loaf pan; alternately, you could spread the batter in a square cake pan and bake it (start with 40 minutes and test to see when it's done), then dust the cooled cake with powdered sugar for a nice effect if you want something more dessert-ish.
Great for the Thanksgiving holiday? You bet: this applesauce cake would make a delicious breakfast treat with a cup of coffee, or an unexpected but still seasonally flavored addition to your dessert table.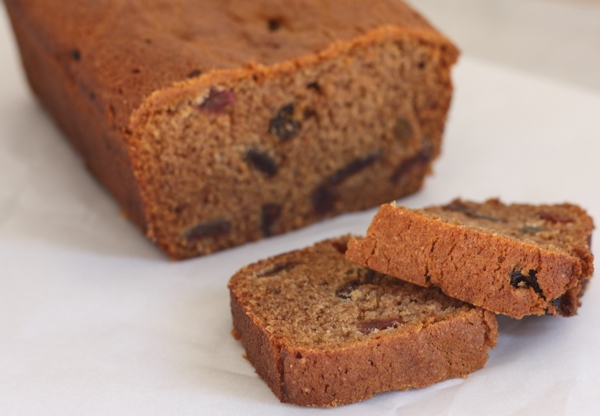 old-fashioned applesauce cake recipe
1/2 cup unsalted butter, softened at room temperature
1 cup sugar
1 cup unsweetened applesauce
1 3/4 cup all-purpose flour
1 tsp. baking soda
1 tsp. salt
1 tsp. ground cinnamon
1/2 tsp. ground cloves
dash of freshly grated nutmeg
1 cup raisins
Preheat oven to 350 degrees. Grease a standard loaf pan or a square (8 or 9 inch) cake pan. Cream the butter and sugar together by hand or in a stand mixer until light and fluffy, about 2 minutes. Stir in the applesauce. Into a medium bowl, sift the flour, baking soda, salt, cinnamon, cloves and nutmeg to combine. Stir the dry ingredients into the butter mixture until smooth. Toss the raisins with a pinch of flour (this helps them distribute evenly in the cake) and add them to the batter and stir gently to combine. Transfer the batter to the prepared pan and smooth the top. Bake for 40 minutes (cake pan) or 50–60 minutes (loaf pan). Remove from oven and cool; run a spatula around the edge of the pan to loosen the cake and carefully ease the cake out of the pan onto a rack to cool completely before slicing. Dust with powdered sugar if desired.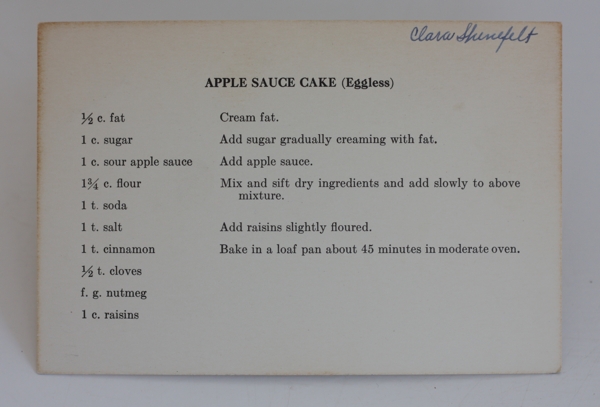 ---
About The Clara Project
Once a week, I'll make and share a recipe from a collection of vintage recipe cards that were written in the 1930s by Clara Shenefelt. See all the Clara Project recipes.
---