Sometimes, old recipes really are the best. And this one ranks right up there. This old-fashioned recipe for hot fudge pudding cake is a classic. It's kind a culinary miracle, how pouring hot water over a thick batter can create this warm, dreamy, fudgy, concoction that lies precisely at the intersection of cake and pudding.
[Why yes, that is a smudge of chocolate cake batter on my computer screen …]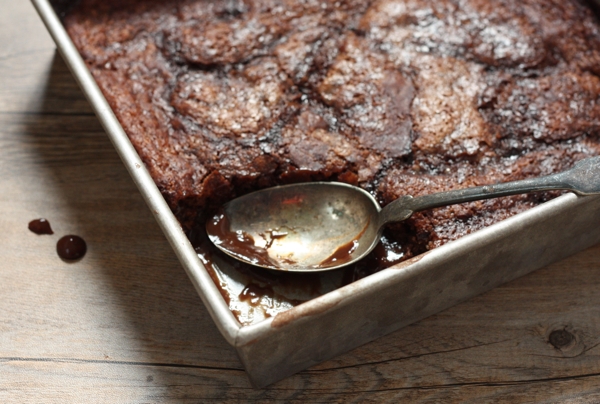 This recipe for Hot Fudge Pudding is a little different than the other recipes in Clara Shenefelt's collection (read more about The Clara Project here), in that it's typed on a postcard (remember those?). It was sent to a Mrs. R. C. Williams in Joliet, IL; how it made its way to Clara's kitchen is a mystery. And I wonder: Was this postcard sent as part of a recipe exchange, kind of like pen pal letters? Or were Mrs. Williams, Clara and the unknown sender acquainted?
Regardless, this hot fudge pudding cake makes a wonderful, comforting, deeply chocolatey dessert that's perfect for a cold night. And it couldn't be easier. I've a hunch I'll be making this again (and again) and that you will be, too.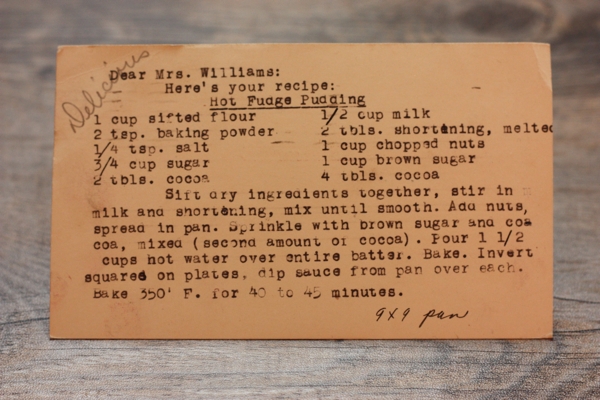 old-fashioned hot fudge pudding cake recipe
1 cup sifted all-purpose flour
2 tsp. baking powder
1/4 tsp. salt
3/4 cup granulated sugar
6 Tbsp. unsweetened cocoa powder (divided use)
1/2 cup milk
2 Tbsp. melted butter
1 cup chopped nuts (optional)
1 cup light brown sugar (packed)
1 1/2 cups very hot water
Preheat oven to 350 degrees. Into a large bowl, sift together the flour, baking powder, salt, granulated sugar and 2 Tbsp. cocoa powder. Add the milk and melted butter and stir to combine thoroughly (batter will be thick). Add the nuts if using. Transfer the batter to a 9-inch-by-9-inch baking pan and smooth the top. In a small bowl, mix together the brown sugar and remaining 4 Tbsp. cocoa powder; sprinkle this mixture evenly over the batter. Carefully pour the hot water over the topping. Bake the pudding cake for 40 to 45 minutes; the brownie-like cake will rise to the top, with the fudgy pudding on the bottom. Serve warm, scooping out the moist cake and spooning some of the pudding over each serving.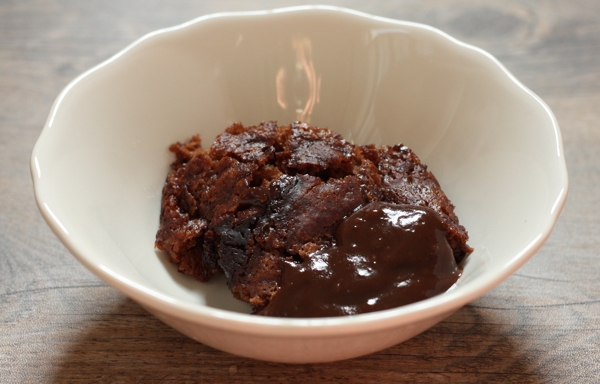 ---
About The Clara Project
Once a week, I'll make and share a recipe from a collection of vintage recipe cards that were written in the 1930s by Clara Shenefelt. See all the Clara Project recipes.
---