I love classic sugar cookies, and I'm always on the lookout for new recipes to try. For this week's Halloween neighborhood street party, I wanted to bake a batch of pretty fall leaf cutout cookies. Rather than return to my essential sugar cookie recipe, I thumbed through my collection of vintage recipes to see if Clara had a basic sugar cookie recipe. (Read more about The Clara Project and the circa 1930s recipes that inspired it.)
Bingo!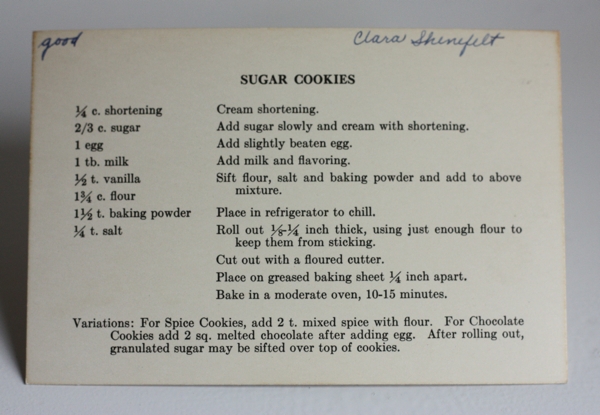 If you like your sugar cookies crispy, crunchy and flavorful, then this old-fashioned sugar cookie recipe is for you. The only modification I made was to add a bit of almond extract for extra flavor. I hadn't previously made sugar cookies with shortening (always butter), and I was surprised by the wonderful texture it yielded; also, it let the almond flavor really shine. I love these cutouts decorated with a bunch of colorful sugar; you could also ice and decorate them during the holidays.
best crispy old-fashioned sugar cookies
1/4 cup shortening
2/3 cup granulated sugar
1 egg, lightly beaten
1 Tbsp. milk
1/2 tsp. pure vanilla extract
1/2 tsp. pure almond extract
1 3/4 cup all-purpose flour
1 1/2 tsp. baking powder
1/4 tsp. salt
1 egg white whisked with 1 tsp. water for finishing
granulated or decorative sugar for finishing
In the bowl of a stand mixer (or in a bowl and using a hand mixer), cream together shortening and sugar until light and fluffy, about 2 minutes. Add the beaten egg and mix to combined; add milk and extracts and stir to combine thoroughly. Sift together the flour, baking powder and salt and add to the mixing bowl; stir to combine well. Transfer the cookie dough to a sheet of waxed paper or plastic wrap, cover and refrigerate for about 30 minutes.
Preheat oven to 350 degrees; spray a cookie sheet lightly with cooking spray. Divide dough in half and roll out one half to about 1/8-inch thick (keep the other refrigerated until ready to use). Cut out shapes with a cookie cutter dipped in flour; transfer cookies to the baking sheet about 1/2 inch apart. Brush the cookies lightly with egg white and sprinkle generously with granulated or decorative sugars. Bake for 12 to 14 minutes, until edges are very lightly brown. Remove baking sheet from the oven and let it sit for 1 minute before transferring cookies to a baking rack to cool.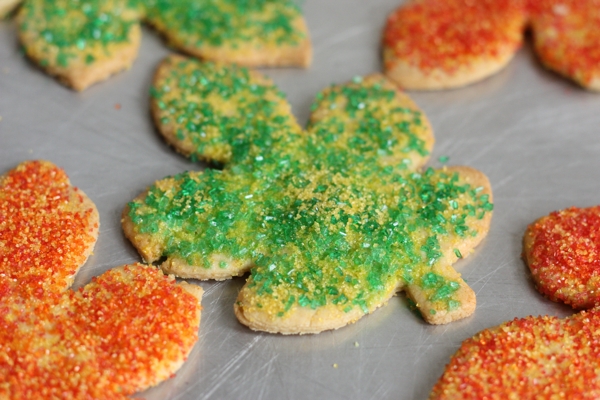 ---
About The Clara Project
Once a week, I'll make and share a recipe from a collection of vintage recipe cards that were written in the 1930s by Clara Shenefelt. See all the Clara Project recipes.
---