I know, right? Potato chip cookies.
This recipe (see more about my exploration of vintage recipes via The Clara Project) is handwritten in blue ball-point pen on a lined 3-by-5 card. It came from Evelyn Fleisch, and it's really nothing more than a list of ingredients (I had to guess at the preparation method, including the oven temperature).
Honestly, I had my doubts about this old-fashioned cookie recipe. The ratio of butter to dry ingredients seemed out of whack, particularly since the recipe called for sifted flour, which would exaggerate the butter/flour ratio wackiness. But I gave it a whirl.
It was a flop. The cookies dissolved into pools of butter on the baking sheet. [scrape scrape scrape, wash wash wash] Total. Cookie. Fail.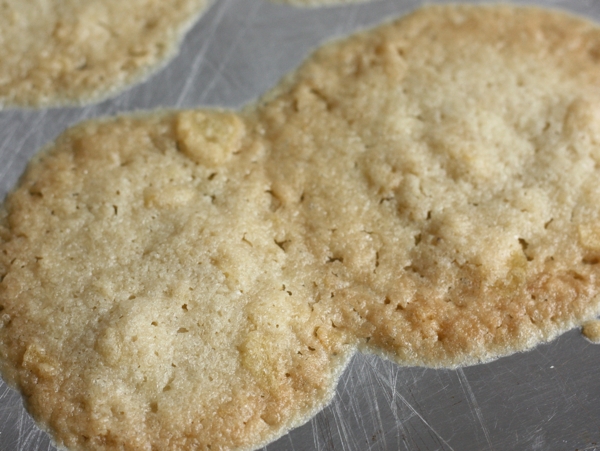 Back to the drawing board. Or rather, to the internet. Turns out, potato chip cookies (though I'd never sampled them) are a beloved staple in many families. A simple search confirmed my hunch: The butter/flour in Evelyn's original recipe is out of whack. Every other recipe I found online, including Emeril's and Smitten Kitchen's, calls for 2 cups of flour. Problem solved.
A second batch came out perfectly delicious. These potato chip cookies are buttery, with a delicate texture like shortbread and a bit of crunch and salt from the chips. The recipe indicated that the pecans are optional, but I would view them as necessary, for they deepen the flavor and add a pleasant texture. They practically scream for a glass of milk to go with.
Do you have a favorite family cookie recipe? Please tell me about it here!
old-fashioned potato chip cookies
1 cup butter, softened at room temperature
1/2 cup granulated sugar
1 tsp. pure vanilla extract
2 cups all-purpose flour
1/2 cup crushed potato chips (see Note)
1/2 cup chopped toasted pecans
Note: Use your hands to smush a pile of potato chips in a small bowl; you don't want them too fine. Then measure 1/2 cup.
Preheat oven to 350 degrees; line a baking sheet with parchment paper. In a medium bowl or the bowl of a stand mixer, stir the butter until it's smooth; add the sugar and beat the butter and sugar together until they're well combined and a little fluffy. Stir in the vanilla extract. Add the flour and stir gently to combine; add the crushed potato chips and pecans and fold gently to combine.
Scoop a teaspoonful of dough and roll it into a ball about 1 inch in diameter. Place on the parchment-lined cookie sheet and use the bottom of a glass that's been dipped in granulated sugar to press the ball into a flat circle. Repeat to fill the cookie sheet, spacing about 2 inches apart. Bake for 12 to 15 minutes, or until the cookies are light brown on the edges. Transfer to a wire rack to cool.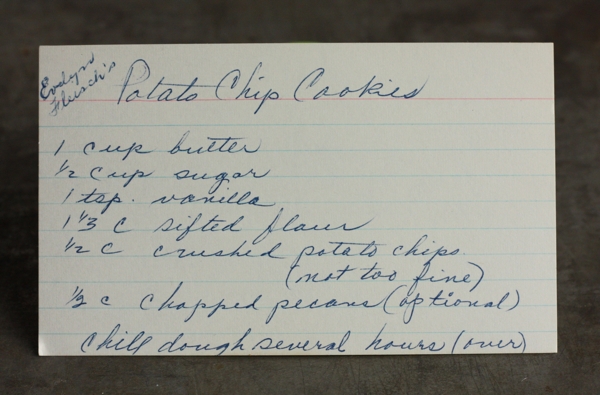 ---
About The Clara Project
Once a week, I'll make and share a recipe from a collection of vintage recipe cards that were written in the 1930s by Clara Shenefelt. See all the Clara Project recipes.
---