To kick off The Clara Project (read more about the project and the vintage recipes that inspired it here), I deliberately chose the first recipe rather than leaving it to a chance draw. I wanted this first post to involve a recipe that I knew you'd enjoy as much as I would.
This chocolate cake recipe was not written by Clara Shenefelt, the homemaker whose collection I have, but by a Mrs. Pat Depner of Park Forest, IL. It's written in blue fountain pen on cream parchment paper; my hunch is that Clara may have been part of a group of women who exchanged recipes, pen pal-style. Mrs. Depner wrote at the top of the page:
A Favorite Recipe for Coffee Lovers
no mess, no muss
One Bowl Chocolate Cake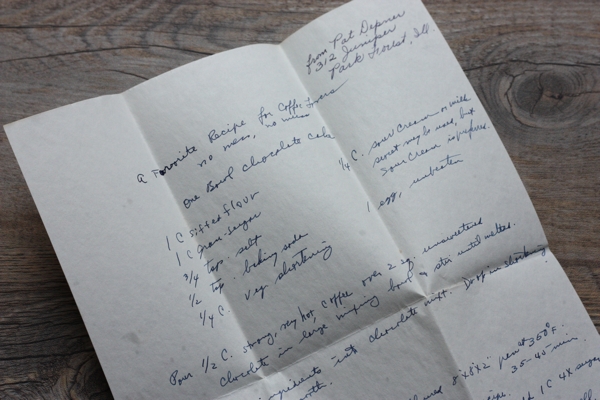 This recipe for one-bowl chocolate cake calls for either sour cream or milk, with a note that sweet may be used but that sour is preferred.
Hmm. We all know that sour cream and milk are very different in taste and, more important, in weight and texture. How could this old-fashioned chocolate cake recipe call for either thick sour cream OR fluid milk?
The word "sweet" is our clue here. "Midwest Sweet Baking History" notes that "soured" milk was a common ingredient in baking, as opposed to "sweet" (or regular) cream or milk. Back in those days, home cooks would allow cream to sit on a counter to ferment, or sour, before churning it into butter. Here's a quick primer on old-fashioned sour milk vs. buttermilk vs. their modern store-bought versions:
old-fashioned sour milk or sour cream = milk or cream that has been "soured" by the addition of an acid like lemon juice or a bacteria culture like yogurt [To make sour milk, stir together 1 cup milk and 1 Tbsp. white vinegar or lemon juice; let stand for 5 minutes or until it thickens, and use immediately. This is a fine substitute for buttermilk in baking recipes.]
buttermilk = liquid that remains after cream is churned into butter; it's essentially skim milk with bits of butterfat suspended in it
cultured buttermilk = liquid that remains after cultured cream (which is "soured" by the addition of an acid like lemon juice or a bacteria culture like yogurt) is churned into butter; it's like regular buttermilk but with a slight tang
store-bought versions of sour cream and buttermilk are typically made with added bacterial cultures, thickeners and preservatives.
For this old-fashioned chocolate cake recipe, I wanted to be as true to the original ingredients as I could. So I made sour milk by adding lemon juice to 2% milk and letting it thicken for a few minutes. The sour milk plays an important role: Its acidity combines with the baking soda to activate the leavening action, which gives this cake a tender crumb.
I'd categorize this as a snack cake—quick and easy to make, unfussy, chocolate-y like a brownie but less dense. It'd be a nice accompaniment to a cup of tea or glass of milk for an afternoon pick-me-up or after-school treat. It's perfectly delightful, and as comforting as a simple piece of good, old-fashioned chocolate cake can be.
old-fashioned one-bowl chocolate cake
(makes one 8-inch square cake, about 9 servings)
1/2 cup very hot, very strong coffee (or 1/2 cup boiling water mixed with 1 Tbsp. instant espresso powder)
2 ounces unsweetened chocolate, broken into pieces
1/3 cup low-fat or whole milk
1 tsp. lemon juice
1 cup sifted flour (sift first, then measure)
1 cup granulated sugar
3/4 tsp. salt
1/2 tsp. baking soda
1/4 cup vegetable shortening
1 egg
powdered sugar for dusting if desired
Preheat oven to 35o degrees. Spray an 8-inch-by-8-inch baking pan with cooking spray, then lay in a piece of parchment paper (two edges should overhang). Spray the parchment, then flour the pan, tapping out the excess.
In a glass measuring cup, combine milk and lemon juice; stir and let sit for about 5 minutes until it's thickened. Measure out 1/4 cup of soured milk.
Place the unsweetened chocolate in a large mixing bowl and pour the hot coffee over it; stir until the chocolate is melted and smooth. In a sifter or sieve, place the flour, sugar, salt and baking soda; sift the dry ingredients into the bowl with the chocolate. Stir until smooth. Cut the shortening into chunks and add to the bowl; stir to combine. Add 1/4 cup soured milk (or half-and-half) and egg; stir gently until the mixture is smooth.
Transfer batter to prepared pan. Bake for 35–45 minutes (a glass or ceramic baking pan will take more time than a metal one), until a toothpick inserted into the center of the cake comes out clean. Remove pan to a cooling rack and let cool. Transfer cake to a plate and dust with powdered sugar.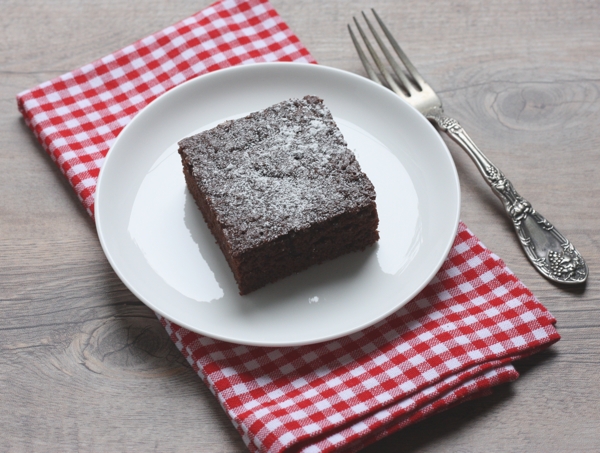 ---
About The Clara Project
Once a week, I'll make and share a recipe from a collection of vintage recipe cards that were written in the 1930s by Clara Shenefelt. See all the Clara Project recipes.
---