I really enjoy spaghetti squash—and the recent recommendation I picked up at the farmers' market for a super easy way to cook spaghetti squash means we'll be making it quite a bit this fall.
One of my favorite summer pasta dishes is a simple sauté of corn with a handful of toasted pine nuts and gobs of freshly grated Parmesan. So I thought to swap my usual pasta (I like orecchiette for this preparation) for spaghetti squash.
OMG.
Rob and I totally "mmmmmm"ed over this dish of spaghetti squash with buttery corn and toasted garlic when we had it for dinner recently. The squash can be prepared ahead, which makes this a super-fast dinner that's easy to get on the table. Big chunks of toasted garlic really add to the awesomeness of this dish. It's a perfect option for Meatless Monday.
I'd be surprised if you don't make this more than once in the short window of time now when both spaghetti squash and corn are in season in the Midwest.
spaghetti squash with corn and toasted garlic
(serves 4)
1 spaghetti squash
1 head garlic
4 ears corn, kernels removed
2 Tbsp. unsalted butter
3 Tbsp. toasted pine nuts
1/2 cup (packed) freshly grated Parmesan
salt and pepper
Cook the spaghetti squash in boiling water according to this method. Cut in half, then remove the seeds and scrape the spaghetti-like strands into a large bowl; set aside.
Separate the head of garlic into cloves, removing any loose papery skin but leaving the cloves unpeeled. Place a large skillet over medium heat (do not add oil or butter), and add the unpeeled garlic cloves. Toast the garlic in the dry skillet for about 5 minutes, then turn the cloves over and continue toasting until the cloves are lightly charred all over (but not burned) and slightly softened, about 10 to 12 minutes. Transfer the toasted garlic cloves to a small bowl; when they're cool, peel and trim the root ends (halve the cloves if they're large).
Return the skillet to the stove over medium heat; add 1 Tbsp. of butter and, when it's melted, add the corn and season with a pinch of salt. Cook the corn, stirring frequently, until it's tender, about 5 minutes. Add the remaining 1 Tbsp. of butter, the pine nuts, the peeled toasted garlic and the spaghetti squash. Stir to coat and cook until the squash is heated through (add a bit more butter or a splash of olive oil if the mixture seems too dry), about 5 to 7 minutes. Taste and adjust the seasoning, adding salt if needed and freshly ground pepper.
Transfer the squash and corn mixture to warmed serving bowls and top generously with Parmesan cheese.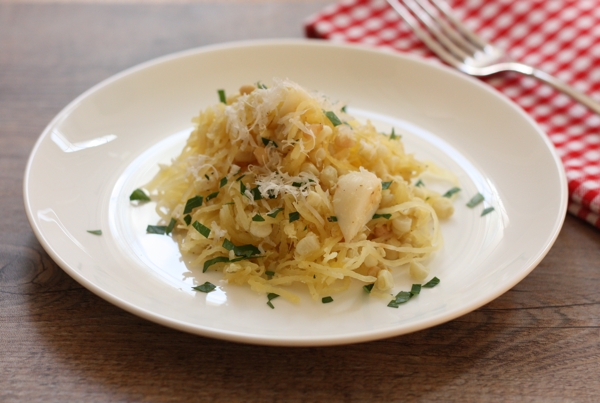 related recipes
the best way to cook spaghetti squash
creamy tomato-mushroom sauce for pasta