We love LOVE risotto. Love making it, love eating it.
Risotto has reputation of being kind of a pain in the tuchus to make, what with all the constant stirring. It takes awhile to bubble and cook, as the rice absorbs liquid that you add by the ladleful, becoming creamy and al dente like a really good pasta dish. But it's not at all difficult (give our house favorite risotto recipe a try and you'll see what I mean).
Here's what you need to make a good risotto:
arborio, carnaroli or other short-grain white rice
a heavy pot and a wooden spoon
a glass of wine and a nibble of something while you cook
a leisurely schedule that allows for the pleasures of lingering in the kitchen while something yummy bubbles away on the stove.
I've been intrigued by the idea of making risotto with something other than white rice—brown rice, perhaps, or red rice or farro (a whole grain that's akin to wheat berries). A recipe in the recent issue of Bon Appétit caught my eye. We made it, and afterward I scrawled GREAT!!!!! in Sharpie on the page. In this recipe, the farro is cooked ahead of time, so there's less adding broth and stirring than with a rice-based risotto recipe.
I'll share the slightly adapted recipe here—I misread the recipe and discovered that my accidental technique actually worked quite well. The corn broth that's the basis of this farro risotto recipe has tons of potential in and of itself; I'll be posting more on that soon. You'll need 3 large ears of fresh summer corn; use semi-pearled farro (found in the bulk food section or grain aisle) to reduce the cooking time.
farro risotto with summer corn
(adapted from Bon Appétit; serves 4)
corn broth
1 1/2 cups fresh corn kernels
1/2 cup chopped onion
1 Tbsp. olive oil
2 cups vegetable broth (I prefer Swanson's organic)
salt
Place the corn, onion, olive oil and a generous pinch of salt in a medium saucepan; cook, stirring occasionally, until the corn is softened and the onion is translucent but not browned, about 7 minutes. Add the broth, bring the mixture to a boil and then reduce heat and simmer until the liquid reduces by half. Remove from heat and cool, then transfer the broth mixture to a blender and puree for 5 minutes until very smooth and well blended. Pour the mixture into a strainer set over a bowl, using a wooden spoon to push as much of the mixture through as you can (you'll have maybe 1/2 cup of solids left in the strainer). Set this corn mixture aside and add a bit more broth to yield 1 1/4 cup.
risotto
2 cups vegetable broth
1 cup semi-pearled or pearled farro
1 Tbsp. olive oil
1/2 cup finely chopped red onion
1/2 cup diced red bell pepper
1 cup fresh corn kernels
1/2 cup halved cherry tomatoes
1/2 cup freshly grated Parmesan cheese
2 Tbsp. slivered fresh basil
salt and pepper
In a medium saucepan, combine the broth, farro and a pinch of salt; bring to a boil, then reduce heat and simmer until the farro is al dente like pasta, 15 to 20 minutes. The farro should absorb most of the liquid; if the pan seems too dry, add a couple of tablespoons of water. When the farro is tender and most of the liquid is absorbed, add half the corn broth and cook over medium heat, stirring as the farro gradually absorbs the liquid, for about 5 minutes. Add the rest of the corn broth and continue cooking and stirring for another 5 to 7 minutes, until the risotto is creamy. Add the Parmesan and stir well to combine; season to taste with salt and fresh-ground pepper. Cover and keep warm while you prep the vegetable topping.
In a medium skillet, warm the olive oil until it shimmers; add the onion and cook over medium heat until it starts to soften, 2 to 3 minutes. Add the bell pepper and corn and continue to cook until the vegetables are crisp-tender and lightly browned, about 5 to 7 minutes. Remove from heat and stir in cherry tomatoes and basil; season to taste with salt.
Spoon the farro risotto into shallow bowls and top with the sautéed vegetable mixture.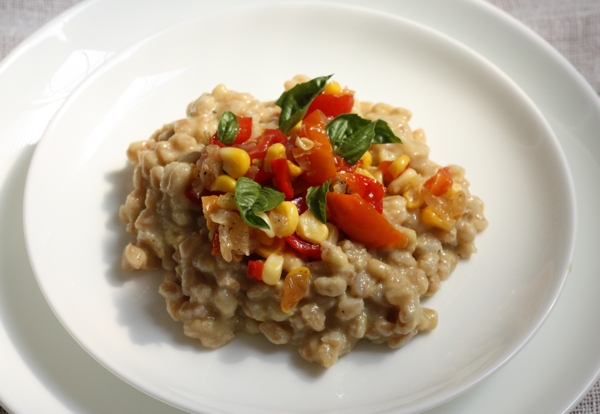 related recipes