Come fall, we really enjoy spaghetti squash, with its lovely combination of healthfulness, deliciousness and flexibility. It can go in all kinds of directions, from main dish to side, topped, tossed, sautéed.
Like many winter squashes, though, spaghetti squash can be a bit of a pain in the neck to prepare, what with the tough outer skin that defies even the sharpest knife. I've tried microwaving it, which requires whacking the raw squash in half, no small feat. I've tried roasting it whole, which is easy but takes up to 90 minutes.
Then I discovered the absolute best way to cook spaghetti squash.
The woman from whom I purchased a nice, football-sized squash at the farmers' market told me that she simply boils spaghetti squash in a big pot of water.
It's SOOOO easy! Boiling cooks the squash in less than half the time it takes in the oven, it makes the squash so much easier to cut in half, and it yields very little waste. This method produces perfectly cooked, al dente strands of golden goodness that you can top with marinara and meatballs or sauté with tons of butter and garlic.
In coming posts, I'll share two of my favorite ways to serve spaghetti squash—I promise, you'll be totally hooked!
the very best way to cook spaghetti squash
Wash any dirt off the squash (and if the squash has a long stem, you can remove it with a small saw). Grab a stock pot large enough to hold the squash plus water to cover it. Bring the water to a boil, then gently drop the squash into the pot. It will float. This is OK. Cover the pot and reduce heat so that the water still boils but doesn't sputter all over the stove. Periodically use a wooden spoon to turn the squash so it cooks evenly. Cook for 20 to 30 minutes, depending on the size of the squash, until it yields when you insert the tip of a paring knife. The skin may split, which is fine; this will make it easier to test for doneness. Dump the squash out into a colander and let it cool for 15 minutes or so, until it's easy to handle. Cut the squash in half lengthwise and use an ice cream scoop to remove the seeds. Use a fork to scrape out long, spaghetti-like strands and transfer the cooked squash to a large bowl. Fluff it with a fork to loosen and separate the strands.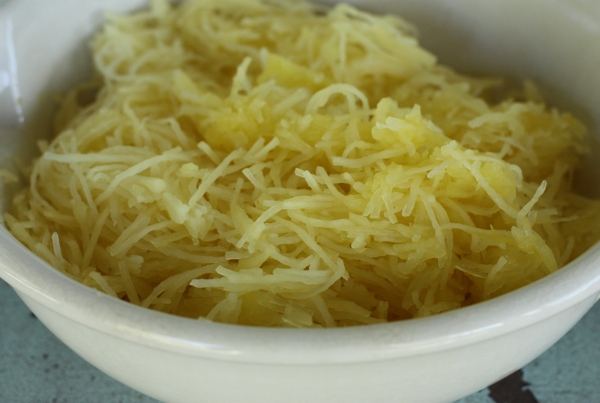 related recipes