Thanks to our connections at Edible Ohio Valley magazine, Rob and I managed an invitation to a unique dinner party in Cincinnati on Saturday.
I was super grouchy about it.
Dîner en Blanc began as a casual picnic among friends in Paris, and it's grown to a massive annual event there. Now there are Dîner en Blanc parties in a handful of cities all over the world: Sydney, London, New York … and Cincinnati.
On the face of it, the event is extremely fussy. Uptight, even. Which is why I was grouchy. Guests must bring their own food and wine, sure. But also their own table and chairs. And cloth table linens. Plates, glasses, silver (no disposables, please). Everything from table settings to attire has to be white. [Cue eyeroll.]
From my frantic queries to neighbors seeking white folding chairs and a properly sized portable table, to the multiple stops it took me to find inexpensive white table linens, to my agonizing over the menu, I was pretty well honked off about the whole thing. Considering not going, even.
On the bus ride to the "secret location" at Cincinnati's Lytle Park, having schlepped and loaded all our stuff, I remained pouty. And then …
It turned out to be a lovely evening. About 1,000 people attended, and many got super creative with their dress and table decor. (I was expecting a predominantly young-professional, social-media crowd; instead, this was a rather old-money Cincinnati group.) Rob's decision to bring two bottles of wine was fortuitous. The weather was perfect, candles glowed, white balloons floated into the sky, we met some fun people. I managed to coax Rob out on the dance floor.
We had fun.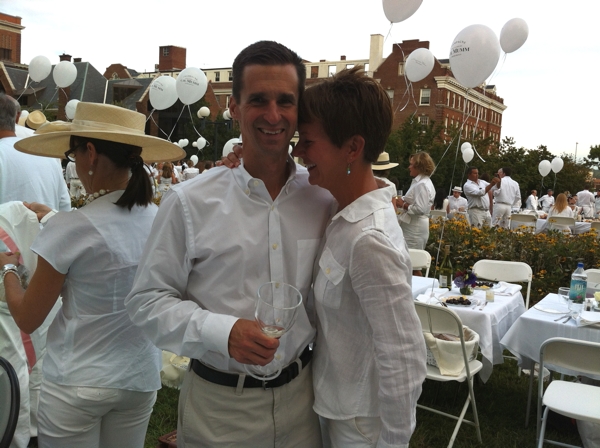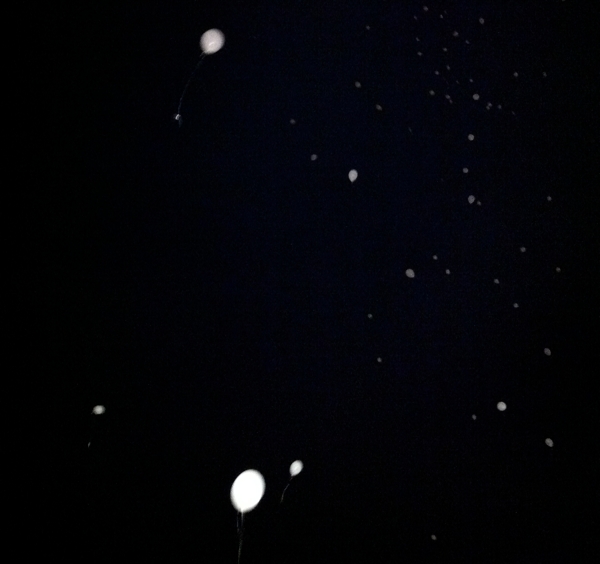 So, you're wondering what I prepared for our picnic dinner …
French picnic salads in jars
Camembert and summer tomato jam
Baguette
S'mores slab pie, courtesy of my friend Karen at SoupAddict.com