Honestly, I can't recall where I stumbled recently upon the idea of drizzling a plate of perfect summer tomatoes with a simple tahini dressing. It isn't a flavor combination that comes naturally to mind.
But since I've taken to making homemade hummus (soooo easy and good; here's my better-than-storebought recipe for homemade roasted red pepper hummus), tahini has become a pantry staple. This sesame paste, kind of like a nut butter, has a toasty flavor that's full of umami—that rich, deep taste-and-mouthfeel combination that you get from a bite of sautéed mushrooms or a good steak.
Skip the salt (in both the dressing and on the salad) in this easy recipe, because the tahini packs plenty of flavor. But by all means, make generous use of freshly cracked black pepper to finish the presentation.
tomato salad with tahini dressing
(makes about 1/2 cup dressing)
3 Tbsp. tahini (sesame paste)
3 Tbsp. water
1 Tbsp. fresh squeezed lemon juice
sliced ripe tomatoes and halved cherry tomatoes
fresh ground pepper
Place the tahini, water and lemon juice in a tall jar; use an immersion blender to mix the dressing to a smooth and even consistency, adding water if needed to thin the mixture so that it drizzles nicely over the tomato salad. (Alternatively, place the tahini in a medium bowl and add the water a bit at a time, whisking to blend smooth; add lemon juice and whisk well.)
Choose perfectly ripe summer tomatoes, a mix of heirloom varieties if you can find them. Core the tomatoes and slice them 1/2-inch thick. Arrange the tomato slices on a serving plate and scatter halved cherry tomatoes on top. Drizzle with the tahini dressing and season well with cracked pepper.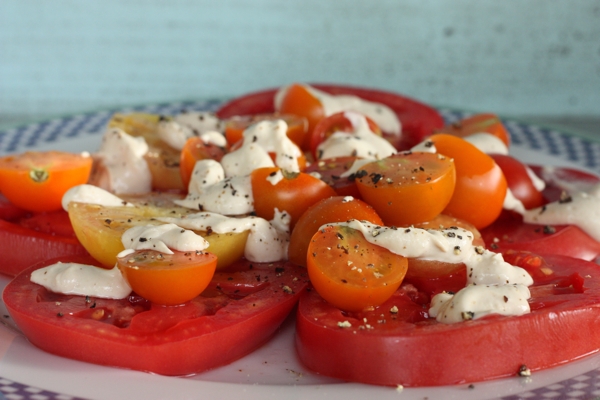 related recipes
cherry tomato salad with mozzarella and lemon
crostini with hummus and Swiss chard