Want to get at the essence of a tomato—the pure, wonderful flavor of summer's best treat? Make tomato broth.
This is not to be confused with tomato juice, which contains more pulpy solids. No, I'm talking about the pale liquid (also called tomato water) that tastes fresh and clean and sweet.
If you have bruised, soft or cracked tomatoes sitting on your windowsill, or you have several half-eaten ones in the refrigerator, then tomato broth is the perfect alternative to tossing them on the compost pile. [And you do have a compost pile, right?] Even better, see if you can find blemished tomatoes at a discount at your farmers' market. Use the ripest tomatoes you can find, and steer clear of the roma varieties, which don't have as much liquid in them.
Tomato broth is a cinch to make, and would be a fun kids-in-the-kitchen project. Take three large ripe tomatoes, and cut them into eighths. Drape a layer of cheesecloth in a fine-mesh colander or strainer and place that over a deep glass (not metal) bowl. Dump the tomatoes into the cloth-lined colander and sprinkle with a generous half-teaspoon of salt. Now here's the fun part: Using your hands, smash and squeeze the tomatoes—really go at it to extract the liquid. (Alternately, you could run the tomatoes through a food mill and then strain through the cheesecloth, but that's not nearly as much fun. But do not use a food processor or blender to puree the tomatoes; you'll pulverize the seeds, which can be bitter.)
Gather up the sides of the cheesecloth and twist to create a pouch, and squeeze, squeeze, squeeze. Repeat several times to get as much broth out of the tomatoes as you can. If you have time, leave the smushed tomatoes in the colander for several hours or overnight. One large tomato yields about one cup of broth, and you can extend this recipe to accommodate as many tomatoes as you have on hand.
Too, you can collect tomato broth over time: I keep a plastic zip-top bag in the freezer, and every time I encounter a recipe that calls for peeled and seeded tomatoes, I dump the peels, pulpy seeds and core into a strainer over a bowl and squeeze out as much liquid as I can; into the freezer bag it goes. Surprising how quickly tomato broth accumulates when you make it in this way.
As the tomato broth stands, it will further separate into a clear, sunshiny liquid with the solids on the bottom. You can either stir to re-combine, or use just the clear liquid.
What to do with tomato broth?
Bloody Marys [hello!?]. Or freeze in ice-cube trays and use that to cool a regular Bloody Mary.
Make a simple gazpacho with tomato broth and tiny diced cucumber and halved cherry tomatoes.
For a wonderful summer dinner: Grill firm white fish like sea bass or grouper. Serve in shallow bowls, on a bed of cooked basmati rice with a topping of chopped tomato, and pour 1/2 cup of tomato broth over each serving.
For a fun starter course, make tomato granita: Pour the tomato water into a shallow glass baking dish and place in the freezer. After 30 minutes, remove the pan and use a fork to scrape the ice crystals that form along the perimeter of the pan. Replace in the freezer, and continue this freezing-and-scraping process to create an icy slush. To serve, spoon a small scoop of the tomato granita into a chilled martini glass and dress with a basil sprig.
Share any other ideas you have for using tomato broth in the Comments!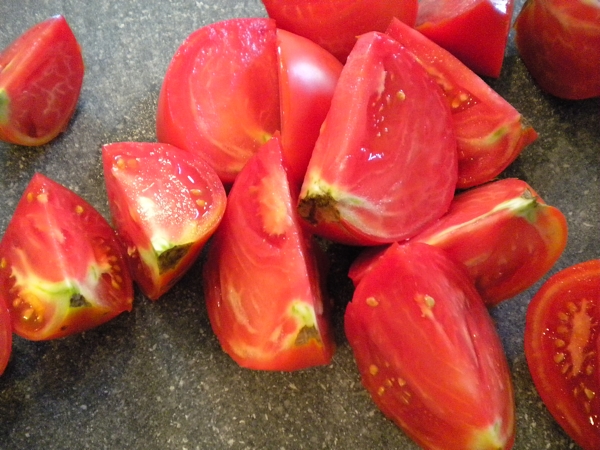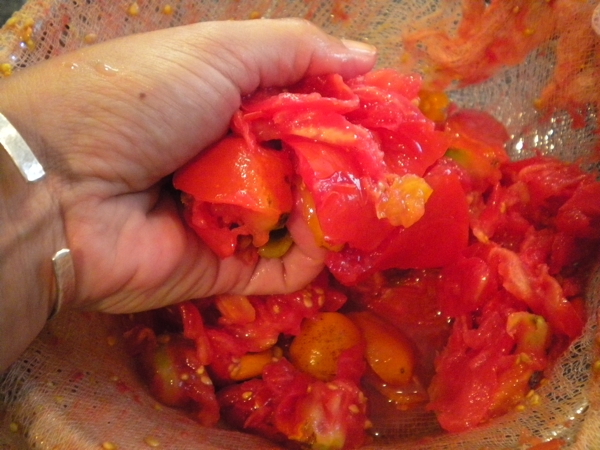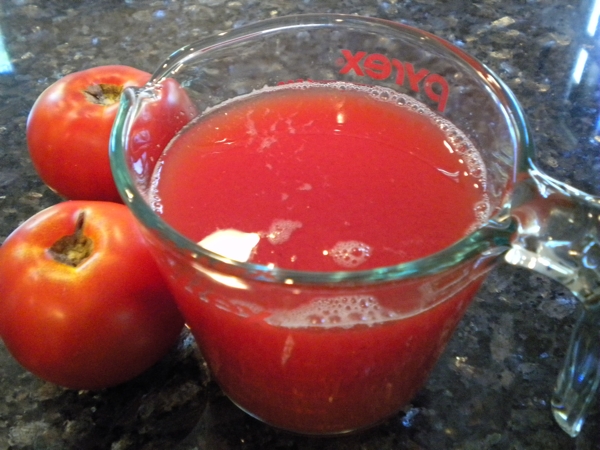 related posts
how to preserve summer tomatoes
smooth and creamy tomato gazpacho