A recipe in last week's e-newsletter from Bon Appétit last week caught my eye: a simple sauté of sweet summer corn and fresh zucchini, scattered with a handful of sunflower seeds for flavor and crunch.
It was exactly the side dish I was looking for to accompany a pleasant summer supper of barbecued shrimp we picked up from Fresh Table at Findlay Market and a few slices of fried green tomato. The BA editor also suggested this sauté as a base for a Meatless Monday meal topped with a fried egg.
I fiddled with the recipe a tiny bit, adding more corn and more sunflower seeds. Here's my version:
corn and zucchini sauté
(serves 4)
2 Tbsp. olive oil
3 ears fresh corn, kernels removed from the cobs
4 cups (packed) of shredded zucchini, from about 3 medium
2 green onions, white and light green part minced
pinch of red pepper flakes (optional)
1/4 tsp. Pimenton (optional)
juice of 1/2 lemon
generous 1/2 cup grated Parmesan cheese, plus more for serving
1/4 cup toasted sunflower seeds
In a large heavy skillet, heat the olive oil until it begins to shimmer; add corn and stir. Cook corn for about 5 minutes until it's crisp-tender, then add zucchini, green onion, and red pepper flakes and Pimenton if using. Stir well and continue to cook until the zucchini is just softened, about 3 minutes. Stir in lemon juice, Parmesan cheese and sunflower seeds. Serve topped with additional grated Parmesan.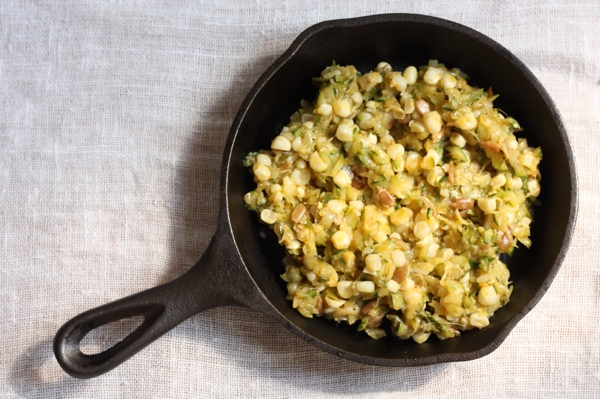 related recipes