What the …???
Last week blew my doors off, and somehow I managed nary a post here on writes4food.com.
Well, we're back in the groove now … and before I resume sharing yummy seasonal and deliciously Midwestern recipes this week (to come: posts on glorious summer corn and tomatoes), I need to ask your input on an idea.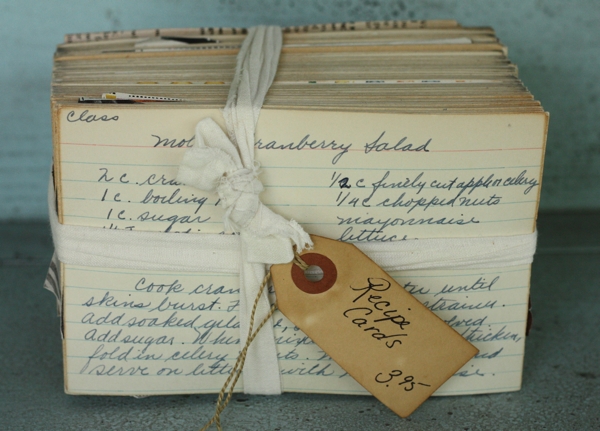 My recent acquisition of a stack of vintage recipe cards (ca. 1934) has prompted some interest. As I posted earlier, I had a VERY brief fling with the idea of cooking my way through the entire stack, á là "Julie and Julia." Until, that is, I discovered the recipe for Kidney Bean Salad with Sliced Tongue.
The recipes (which are either hand-written in pretty blue script or typed neatly on index cards; many are signed, Clara Shenefelt) offer a snapshot of how American housewives cooked for their families in the early 1930s. These dishes are light years from the way I cook now: They're fussy, time-consuming and reliant on then-popular ingredients like canned pineapple and gelatin. No wonder convenience foods like TV dinners and cake mixes started their revolutionary march through American kitchens in the 1940s.  For the 1930s housewife, getting dinner on the table was, forgive me, kind of a pain in the ass.
Still, what to do with these recipe cards?
And then on Friday night, well into a bottle of wine, Rob had an idea: Draw one card at random each week, prepare that recipe and share the results here. If I encounter ingredients that aren't commonly available now, I'll have to improvise, but otherwise I'll remain true to the source. And if a recipe calls for individual molds (as so many salads and desserts do), then it's off to the antique store whence the cards came.
So I'll put it to you, friends … Want to join me on a journey through Clara Shenefelt's recipe collection? Comment here to let me know if this is a good idea!