Some folks I know are intimidated by pie crust, thinking that it's too difficult to handle and too easy to mess up. If you count yourself among them, then I have two suggestions: First, try my Grandmother's foolproof, never-fail, super-easy pie dough recipe. Second, make a free-form fruit tart.
This recipe for a free-form fruit tart comes via my brother; I have the notes I jotted as I watched him make a version with fresh figs and walnuts. The tart dough is sweet, buttery and very soft—more like a cookie dough than a traditional pâte brisée, or pastry dough. I like to make a full batch and use one half immediately and freeze the other half for later; half the dough makes a roughly 12-inch tart, about 6 servings.
I love the combination of strawberry and orange, so I prepared the fruit with Cointreau orange liqueur and used orange zest in the tart dough. (Similarly, you could macerate the fruit in Amaretto and substitute almond extract for the vanilla.)
Do not do as I did and use a rimless baking sheet—be sure to use a rimmed sheet or pizza pan to bake the tart, lest you have fruit juice caramelizing on the floor of your oven. Don't sweat it if the dough develops a hole or two as you fold it over the fruit—this is supposed to look rustic, not perfect. If, as you're rolling out the dough, you find that it's too soft to handle easily, then pop it back in the refrigerator for another 10 to 15 minutes.
free-form strawberry tart
for the fruit filling
1 quart fresh strawberries, cleaned and trimmed, halved if they're huge (see Note)
1 Tbsp. brown, granulated or raw sugar, or to taste
2 to 3 Tbsp. liqueur, such as Amaretto, Cointreau, Grand Marnier, or brandy or port (optional)
Before making the tart dough (about 1 hour before baking), combine fruit, sugar and liqueur in a large bowl; toss to combine and let sit to infuse.
for the crust
1 3/4 sticks (14 Tbsp.) unsalted butter, softened but still cool
1/2 cup granulated sugar
1 egg + 1 egg yolk (reserve white)
1/2 tsp. vanilla extract
zest from 1 lemon or orange
2 1/4 cups all-purpose flour
pinch of salt
In a stand mixer or using a bowl and hand mixer, cream together butter and sugar; add egg and egg yolk and stir to combine, then stir in vanilla extract and citrus zest. Add flour and salt, stir to combine. Transfer dough to a floured pastry cloth or clean kitchen towel, shape it into a ball and divide it in half. (Wrap one half in two layers of plastic wrap and freeze for a couple of months.) Press the other half into a disc and wrap it in plastic or waxed paper; chill for 30 minutes.
Preheat oven to 375 degrees, and line a rimmed baking sheet with a piece of parchment. On the floured cloth, roll the dough out to about 15 inches in diameter. Carefully transfer the dough circle to the baking sheet. Use a slotted spoon to mound the fruit in the center of the dough circle, leaving an inch or two around the perimeter; drizzle fruit with a spoonful or two of the accumulated juices and liqueur. Gently fold the outer rim of dough over the fruit. Brush the dough with the reserved egg white. Bake for 25 to 35 minutes, until crust is deeply golden.
Note: The beauty of this free-form fruit tart recipe is its flexibility. Virtually any kind of fruit works: berries of any type, peeled and sliced peaches or nectarines, sliced plums, mixed berries and stone fruit, halved fresh figs. Add a generous handful of toasted and chopped almonds or walnuts if you'd like.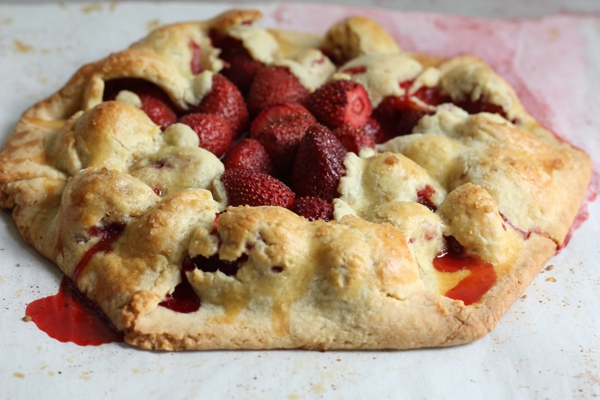 more strawberry recipes