Those who know me best know that I appreciate need a good lunch. A rotten mid-day meal (which occasionally happens when I'm time-pressed and just grab whatever is convenient) can send me into a tailspin for the afternoon. I need the physical and mental distance of a lunch break, and something tasty to fuel me for the rest of the day.
Aside from a REALLY good peanut butter & jelly sandwich—made with Blue Oven Bakery bread, fresh-ground peanut butter and homemade strawberry jam—my lunchtime preference veers toward salad. Not your standard lettuce-and-dressing salad, mind you, but rather a hearty salad made with protein (cooked chicken or quinoa), fiber (vegetables or whole grains) and a light dressing of good olive oil and an acid like lemon juice or balsamic vinegar.
This great lunchtime salad recipe is inspired by a dish that I had at a catered event several years ago. The next day, I grabbed all the ingredients—cooked chicken, a fresh fennel bulb and a few carrots—and set about re-creating it. It's become such a go-to for me that I didn't even think about sharing this healthy salad recipe here until I made it [again!] recently.
lunchbox salad with chicken, carrot and fennel
(makes 3 lunchtime servings)
1 cup of shredded cooked chicken
1 fennel bulb
3 large carrots
1 tsp. fennel seed, toasted in a dry skillet and crushed
2 Tbsp. olive oil
2 Tbsp. rice wine vinegar
2 Tbsp. minced fresh parsley
kosher salt and freshly ground pepper to taste
Wash and trim the end off the fennel bulb; cut the fennel in half and use the tip of a knife to cut out the tough inner core (it's the dense triangular center of the bulb). Cut each half again in half lengthwise, then slice very thinly crosswise. Peel carrots, then using the peeler, cut into long strips; stack strips together and cut crosswise into 3-inch (or so) lengths. In a large bowl, combine chicken, fennel, carrot, fennel seed, oil, vinegar and parsley. Season well with kosher salt and freshly ground pepper. Serve at room temperature.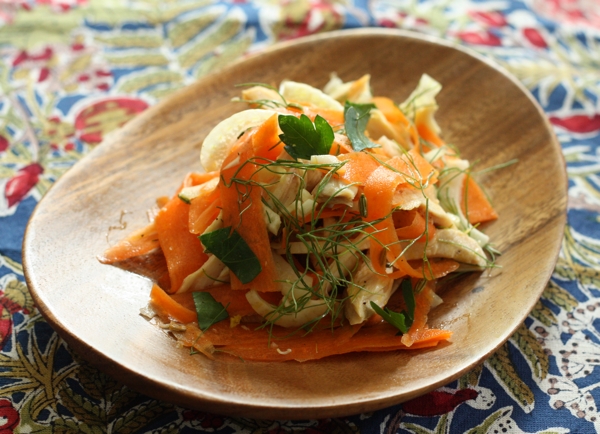 more great lunchtime salad recipes
tabbouleh salad with chicken
hearty grain-and-veggie salad with many variations