My recent springtime chore of cleaning out the fridge and de-cluttering (and de-expired-food-ifying) the pantry prompted me to give some good thought to the essential ingredients that I tend to keep on hand, constantly. The kinds of ingredients that could come together in some combination to form a decent dinner. The things I pack when I'm provisioning for a road-trip vacation. The essentials I'd stockpile if I were a doomsday prepper. The items I'd recommend that most folks keep around as building blocks for good and healthy cooking. Here's the list I came up with:
On the shelf
The basics: Extra-virgin olive oil, balsamic vinegar, white-wine vinegar, black peppercorns and three types of salt: coarse, table and extra-fine sea salt for finishing.
Pasta: if I were to choose just two shapes, I'd stock spaghetti and orecchiette. I love the 'little ear' shape of the latter, which is perfect for scooping up mouthfuls of sauce. We really like Cipriani brand extra-thin egg pastas and Rustichella d'Abruzzo shaped pastas (particularly orecchiette for pasta with cheese and arugula and fregola sarda, for pasta with zucchini and pine nuts). My go-to grocery brand of pasta is DeCecco.
Grains: We cook risotto regularly, so arborio or carnaroli are always on hand. I also keep basmati rice on the shelf. Quinoa is also a staple; I use it to make hearty lunchtime salads like this quinoa salad with zucchini.
Boxed chicken broth. I prefer Swanson's Organic. If I need broth in a pinch, I'll use Rapunzel herb and sea salt vegetable stock cubes.
Canned tomatoes. Whole, peeled, no salt. Go with whole tomatoes; they're better quality than diced canned tomatoes; if your recipe calls for diced, simply tear whole tomatoes into chunks with your fingers. I like Trader Joe's, Hunt's or Red Gold.
Canned beans. Either chickpeas or white beans (or both). If I need a quick appetizer, I'll whirl some canned white beans (drained) together with lemon juice, olive oil and seasoning for a white-bean puree that's perfect with pita chips.
In the fridge
Peanut butter: natural, fresh-ground and salt-free. Oh, and homemade jam.
A jar of homemade preserved lemons to give a bright, salty flavor to marinades and international dishes like Moroccan chicken.
Greek yogurt: I love Fage Total 0%. Rich, creamy, delicious, versatile. Use Greek yogurt in place of sour cream, or try the perfect afternoon snack: homemade yogurt-fruit cups.
Eggs: from the farmers' market, the freshest I can find. If I'm stumped for dinner, I'll whip up an egg and vegetable frittata with whatever leftover veggies I have on hand.
Dijon mustard: An essential ingredient in my house favorite, super-simple vinaigrette dressing.
Limes and lemons: For cocktails, for squeezing over cooked vegetables, for flavoring a glass of sparkling water.
Parmesan cheese: We'll buy a half-pound chunk at a time and grate it fresh as we need it. Lasts for weeks.
Sparkling water. La Croix raspberry-cranberry sparkling water, with no artificial flavors, no sugar and no calories, is my soda.
In the freezer
Homemade chicken stock: Here's how to make your own.
Summer fruits: Blueberries, blackberries, raspberries … to top my morning bowl of cereal all winter long. I also freeze whole summer tomatoes.
Pita bread: Brush a pita with olive oil, sprinkle it with seasoned salt and run under the broiler until toasty brown. Great with hummus or homemade tabbouleh for a wonderful snack or appetizer.
Ice cream: I really love Trader Joe's vanilla ice cream. It's smooth and natural-tasting.
Cooked chicken: Grilled, roasted or boiled and shredded. I keep leftover cooked chicken in zip-top freezer bags so I can quickly thaw some and add to a lunch-able salad like this fabulous wild rice salad with chicken.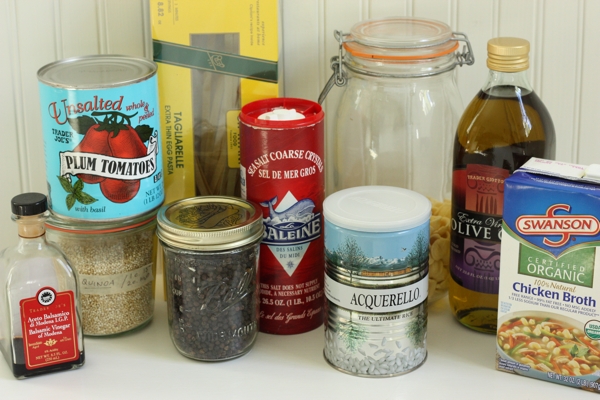 So, what's on your list of kitchen essentials? Share in the comments below!