In springtime, I can't get enough of arugula. I grow it in my backyard garden (and try to overwinter a crop in my cold frame). I buy it at the first farmers' markets of the season. I toss arugula with cooked pasta. I season it with olive oil and lemon juice and top a huge pile of arugula with slices of perfectly grilled steak.
Arugula has so much peppery flavor that it doesn't take much adulteration. I'm loving this  colorful and flavorful arugula salad that I was inspired to make after having dinner recently at Buz, a new restaurant in Cincinnati.
arugula salad with cranberries and pistachios
(serves 2)
several large handfuls of fresh spring arugula, washed and spun dry
2 Tbsp. dried cranberries
2 Tbsp. roasted unsalted shelled pistachios
2 tsp. chopped shallot
1/2 tsp. Dijon mustard
1 Tbsp. white wine vinegar
3 Tbsp. extra-virgin olive oil
salt and freshly ground pepper
Make the dressing: Combine mustard and vinegar in a small lidded jar; add a pinch of salt. Close the jar and shake to combine. Add shallot, olive oil and a pinch of ground pepper. Shake again to combine. Let dressing sit for 20 minutes or so for the shallot to infuse its flavor, then spoon or strain out the shallot and discard.
Toss the arugula with dressing to taste, and then top with pistachios, cranberries and fresh cracked pepper.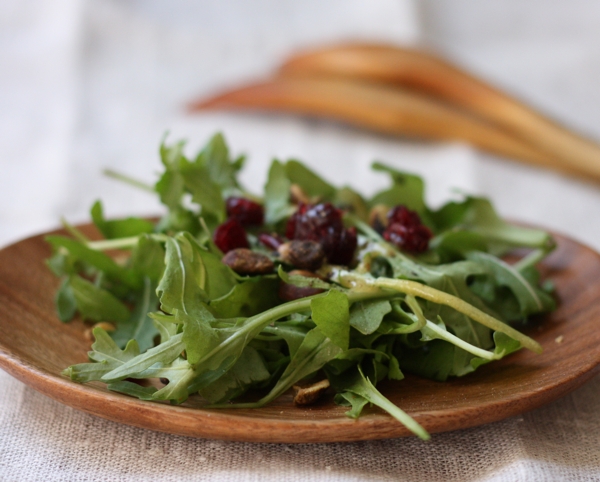 related recipes
better than store-bought vinaigrette
best blue-cheese dressing