In my estimation, this wine-infused chocolate cake is about as perfect as a dessert can be: deeply flavored, not too sweet, moist, very simple to make. Perfect, right?
I spotted a photo of this chocolate-red wine cake recently via social media (the recipe is from Food & Wine; it originally appeared in Anne Willan's "Cooking with Wine"), and immediately took two sticks of unsalted butter out of the freezer to soften. My anticipation was rewarded: Truly, this cake is a snap to put together, it stores well and would be an ideal dessert for a dinner party.
I made a couple of notable alterations to the recipe and was pleased with the result. First, I opted for a fruity shiraz instead of the dry red wine called for. I love a glass of shiraz or zinfandel with a piece of really good chocolate to end a meal, and so I figured the wine's berry flavors and the bittersweet cocoa would pair nicely. Second, I reduce the sugar called for by quite a bit, assuming the wine's fruit would add plenty of sweetness. Two other bits of advice: Use good cocoa (I used Ghirardelli) and, as always, cook with a wine that's good enough to drink (no plonk, please). If you prefer a dry, earthy red, then you may want to revert to the Food & Wine recipe with the full quantity of sugar.
chocolate red-wine cake recipe
(adapted from Food & Wine)
2 cups all-purpose flour
3/4 cup unsweetened cocoa (not Dutch-processed)
1 1/4 tsp. baking soda
1/2 tsp. salt
2 sticks unsalted butter, softened
1 1/4 cup sugar
2 large eggs
1 tsp. vanilla extract
1 1/4 cup red wine
powdered sugar for dusting
Preheat oven to 350 degrees. Butter and flour a standard (12-cup) bundt or tube pan. Sift together into a bowl the flour, cocoa, baking soda and salt. In the bowl of a stand mixer (or use a large bowl and a handheld mixer), mix the butter on medium speed until smooth, then add sugar and beat on medium until very light and fluffy (3 or 4 minutes should do it). Add one egg and mix to blend completely, then add the second egg and blend. Add vanilla and mix to blend. Add one-third of the flour mixture and mix on low speed to incorporate. Add half the wine and mix to incorporate. Repeat, adding one-third of the flour, then the rest of the wine, then the last of the flour, blending just to incorporate the dry and liquid ingredients. Transfer the batter to the prepared cake pan; use a spatula to smooth the top and rap the pan firmly on the counter a couple of times to settle the batter. Bake for 45 minutes, until a toothpick inserted in the center of the cake comes out completely clean. Let the cake cool in the pan for 15 minutes or so, then run an offset spatula around the perimeter to loosen. Invert onto a plate, then invert again so the cake is right-side up. Dust with powdered sugar.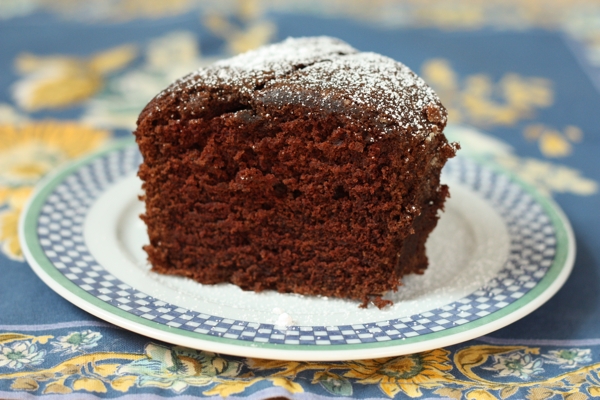 related recipes