In our basement, I have a decade's worth of Bon Appetit magazines dating back to our early married life. [This was a long time ago.] The magazine was an essential guidebook as I adapted what I'd learned about cooking from my kitchen-centric family to Rob's and my evolving tastes. I loved that BA at that time published full menus—a meatless menu for six, a healthy meal for four, a romantic dinner for two—and included recipes for most of the dishes. My stash of BA is full of dog-eared, wine-splashed pages. I was so devoted to the publication that I created my own index, listing recipes that we'd tried or earmarked with the issue date and page number.
I regularly browse that index for new (old) recipes to try. Which brought me to this one: a simple yet incredibly flavorful pasta dish with brie, arugula and mushrooms. It appeared in the September 1997 issue—when arugula was an exotic green and the pasta shape called for, orecchiette, was hard to find in grocery stores.
[An aside on orecchiette, or 'little ears': This is my very favorite pasta shape, because its heft and bowl-like structure perfectly scoop up pools of sauce.]
I've adapted the recipe a bit from the original. Though it's 15 years old, this dish tastes remarkably in style with our current food sensibilities.
orecchiette with mushrooms, arugula, tomatoes and brie
(serves 2 generously)
2 cups orecchiette or small pasta shells
2 Tbsp. olive oil
2 cups sliced cremini mushrooms
2 cloves garlic, minced
2 cups chopped tomatoes (about 3 plum tomatoes)
1/2 cup dry white wine
3 large handfuls of arugula
4 ounces Brie, rind trimmed, cheese cut into pieces
Cook the pasta in boiling salted water until al dente according to package directions; reserve 1/2 cup of cooking liquid. Warm oil in a large skillet over medium heat; when oil begins to shimmer, add mushrooms and sauté about 5 minutes until golden brown. Add garlic and sauté for 1 minute, then add tomatoes. Cook, stirring, until they begin to soften, then add wine and bring sauce to a boil. Reduce heat to medium-low and simmer until tomatoes get juicy, about 5 minutes. Toss drained pasta with sauce; add cheese and stir to melt, then add arugula and toss gently until it wilts. Add a bit of the reserved cooking liquid if necessary to thin the sauce. Season well with salt and pepper.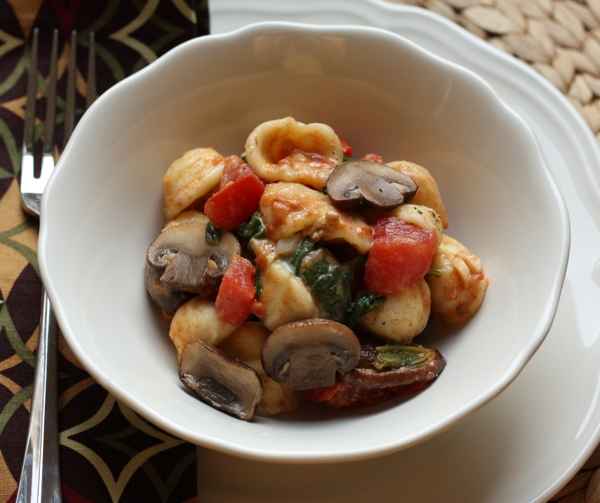 related recipes
pasta with sausage, peas and mascarpone