We're just back from a long weekend in Florida, where we enjoyed the sunny weather and played golf (poorly). We returned to a Florida-like climate here in Cincinnati, as temps yesterday hit the mid-70s. To my immense delight, it was the perfect evening to have dinner at the Side Porch Cafe.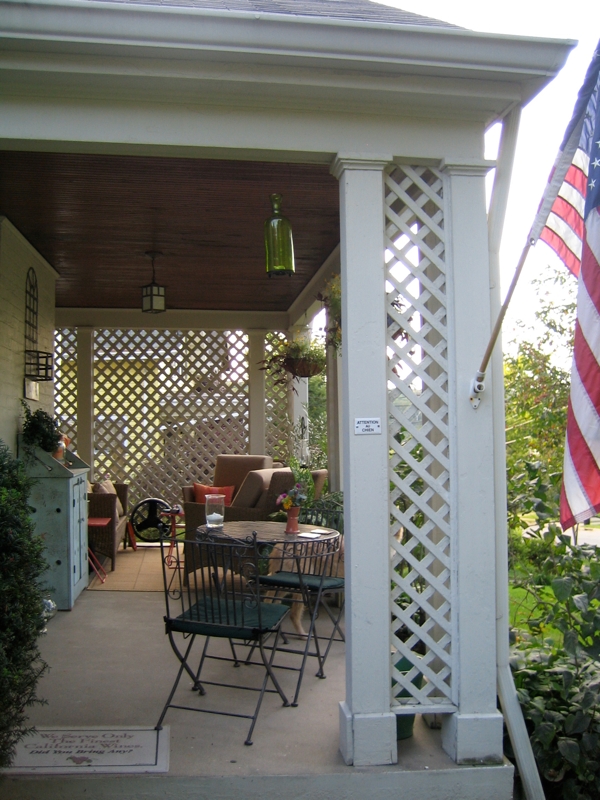 On pleasant days, our beloved side porch becomes our outdoor living room-slash-dining room. It's my favorite al fresco dining spot in town: the food's always good, the wine list is extensive and it's dog-friendly.
I'm pretty sure that March 13 is the earliest-ever opening date for the Side Porch Cafe. And if these unseasonable temperatures continue, we'll be dining there for the next several days.
OK, so on to today's recipe … I toted home from Florida about a quart and a half of fresh strawberries and about two pounds of local, vine-ripened Big Boy tomatoes, which we purchased at a fruit market in Fort Myers. They're delicious. The tomatoes demanded a simple, healthy preparation, so this recipe for grilled chicken stuffed with basil leaves and fresh sliced tomato immediately came to mind. Sorry there's no photo of the dish … it was late, we were starving and the side porch was beckoning. (Go here if you'd like to see a picture.)
grilled chicken with tomato and basil
(serves 2)
2 boneless, skinless chicken breast halves
1 beautifully ripe tomato
6–8 large basil leaves
olive oil
salt & pepper
Using a chef's knife, carefully butterfly each chicken breast half, slicing horizontally from the thinnest side toward the thickest, being careful not to slice all the way through or to cut too deeply. (If you end up with a hole, don't sweat it: You'll use toothpicks to keep everything in place for grilling.) Open each chicken breast like a book; sprinkle the inside well with salt an pepper. Lay two or three thick slices of tomato on one side of each chicken breast, then top with several large basil leaves. Fold the chicken breasts closed and use toothpicks to secure them. Rub the chicken with olive oil and season with salt and pepper. Grill over medium heat for 6–8 minutes per side. Remove toothpicks before serving.