A couple of weeks ago, a public-relations rep for GreenBEAN Delivery got in touch to ask if I'd be interested in receiving a sample to review. Of course I was.
I was aware of GreenBEAN primarily through my work with Edible Ohio Valley magazine. The company offers home delivery of fresh local and organic produce, plus other grocery items, in Indianapolis and Fort Wayne; Cincinnati, Dayton and Columbus in Ohio; and Louisville. I'd seen their delivery trucks in our neighborhood. I knew that GreenBEAN's Indy-based parent, Tiny Footprint Distribution, is responsible for bringing local food to retailers, and that they also serve school lunch programs.
I was intrigued by the home delivery concept and aware of GreenBEAN's reputation for quality. And I figured that Rob and I would be their target customers: avid home cooks interested in eating sustainably and locally. And yet, I hadn't signed up—primarily because I'm deeply fond of our Saturday morning Findlay Market shopping routine.
So I jumped at the chance to try the service. Here's how it works: You set up an account and select the size and frequency for a standing order (you can cancel when you want). Fruit/vegetable bins come in small ($35), medium ($42) and large ($49), or you can choose a produce/grocery bin; delivery options are weekly or bi-weekly.
In addition to produce (which is labeled by origin and organic or conventional), GreenBEAN offers a variety of grocery items—a lot of it sourced in the Midwest: milk from Snowville Creamery and Hartzler Dairy; cheeses from Blue Jacket, Trader's Point and Capriole; snacks and cereals from Luna, Barbara's Bakery, Kashi and Annie's; Carriage House Farm honey and Fab Ferments kraut. There's meat (frozen) from Kentucky Bison Company, Dean Family Farm, Gunthorp Farms and more. Bulk items, coffee, bottled drinks, soups and stocks, kid-friendly foods … it's a tightly edited collection of natural, organic, local and conventional foods.
Ordering is pretty straightforward: For my Wednesday afternoon delivery, I had a window that opened the prior Thursday and closed Monday at noon in which to place and customize my order. Within the confines of a $35 produce bin, I had lots of room to maneuver. The ordering process begins with a set list of items; from there, you can delete items, change quantity and add other fruits or veggies. The system alerts you if you're over or under on your order. It took me a minute to understand how to add items to my bin (you can add only if you remove), but it's pretty straightforward.
Wednesday afternoon, a green plastic tub the size of a recycling bin (it's lined with styrofoam and includes a cold pack) showed up on my porch. Here's what I received:
1 bunch of organic celery
1 head of organic broccoli
2 lb. of organic ruby crescent fingerling potatoes
1 organic onion
2 organic garlic
1 bunch of organic beets
1 bunch of organic carrots
4 organic Valencia oranges
2 organic lemons
1 pint of organic grape tomatoes
1 bunch of organic cilantro
1 head of local bibb lettuce
The produce was all very high-quality (except for the lemons, which were underripe) and in great condition. I unpacked everything, and it completely stuffed my fridge.
Ordinarily, I'm very much a planner when it comes to dinner. But this week, I decided to un-plan: Just open the produce bin and see what inspired me. It's like shopping at a farmers' market: You work with what's available. Here's what has (or will) come out of this delivery:
The tomatoes and cilantro seemed to scream, 'salsa!' I had some organic chicken breasts on hand and made a quick marinade with the onion, garlic and lemon juice; we grilled the chicken and topped it with the salsa (recipe below). The leftover chicken and salsa will become toppings for cheesy baked nachos Friday night (when we watch IU again beat Kentucky in basketball).
The oranges and lettuce combined into a lovely salad: I segmented an orange and reserved its juice, then whisked the juice with an equal amount of olive oil as a dressing, and tossed the lettuce with the oranges, some slivered almonds and a bit of goat cheese.
More cilantro (along with parsley and chives that I have on hand) will go into a flavorful herb sauce to top grilled steak. As a side, I'll roast the broccoli with some of the garlic in foil on the grill.
The potatoes and celery will combine into a nice, light potato salad this weekend. I'll also make a chicken salad with apples and celery.
I love a simple puree of steamed carrots with grilled fish or sea scallops (a bit of cilantro will go in that, as well), so that's on the menu for Saturday. The beets I'll roast and toss with more goat cheese and walnuts from the freezer.
In all, I figure I'll get probably 8 dishes and 2 or 3 side salads, out of the GreenBEAN bin plus chicken and beef I had on hand and a piece of fish I'll buy this weekend. (And my compost bin will get the carrot and beet tops.)
I plan to do a bit of research next week to cost compare, but my initial feeling is that GreenBEAN is a good value: quality product, lots of yield, a nice time-saver. I'm seriously considering a bi-weekly small produce/grocery bin to supplement my weekly Findlay shopping.
quick fresh salsa
1 pint cherry or grape tomatoes, halved
1 clove garlic, minced
1 Tbsp. minced onion
juice of 1/2 lemon
2 Tbsp. olive oil
1/2 tsp. ground cumin
salt & pepper
Combine all ingredients and let sit at room temperature for an hour or so to blend flavors. Use this salsa to top grilled fish, chicken or steak, or with tortilla chips.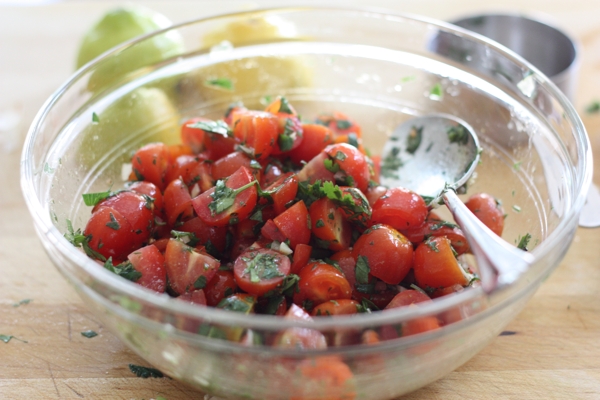 Have you tried GreenBEAN delivery? Leave a comment below and let us know what you think of the service!