Wait, now … I know what you're thinking: Millet? Isn't that bird food? And, No way can I convince my family to eat something weird like this. But stay with me here.
These little fritters [we could also call them croquettes or cakes] are packed with huge flavor and flecked with colorful vegetables. They'd make a fine vegetarian main course, a yummy side to grilled fish or chicken, a fun party food.
And this recipe is hugely flexible. I first encountered millet during a cooking class on whole grains hosted by Dandelion Chef Laura Robinson. Millet cooks to a thick porridge-like consistency, so it holds together well when formed into patties or balls that can be sautéed or baked. Laura guided us through a recipe for millet croquettes with an Indian flair, flavored with curry and garam masala and finished with an interesting tomato-coconut cream sauce. Delicious.
I began with Laura's recipe and tinkered extensively with the add-ins and spices (though the essential base of cooked millet is hers). I decided to play with North African flavors, inspired by my trip last year to Marrakech, where I enjoyed a cooking class that highlighted Moroccan cuisine. I added warm spices to the millet fritters, and then kicked things up with a hit of harissa (the North African chile-based condiment) in the tomato sauce. Also delicious!
millet-vegetable fritters
(makes about 16 fritters)
1 cup dry hulled millet (find this in the natural-foods section or at Whole Foods)
2 3/4 cups water
1/4 tsp. salt
1 tsp. ground cinnamon
1 tsp. ground ginger
1 1/2 tsp. ground cumin
1/2 tsp. chili powder
1/2 tsp. regular or smoked paprika
1/4 tsp. freshly grated nutmeg
1/2 red bell pepper, cut into 1/8-inch dice
1/2 medium zucchini, cut into 1/8-inch dice
1 onion, cut into 1/8-inch dice (divided use)
5 garlic cloves, minced (divided use)
2 Tbsp. finely chopped fresh parsley
1 28-ounce can whole peeled tomatoes, pureed in a blender
1/4 cup plain Greek yogurt
harissa to taste (or use sriracha or the hot sauce of your choice)
vegetable oil
olive oil
For the fritters
In a fine mesh strainer, rinse the millet in cool water. Bring 2 3/4 cups of water, the millet and 1/4 tsp. salt to a boil in a saucepan; cover, reduce heat and simmer until the water is absorbed, about 15 minutes. Remove from heat and cool slightly.
In the meantime, combine cinnamon, ginger, cumin, chili powder, paprika and nutmeg in a small nonstick skillet; cook, stirring, over medium heat until the spices become aromatic, 1 to 2 minutes. Quickly transfer the spices to a large mixing bowl.
In a sauté pan, heat 1 Tbsp. olive oil over medium heat until it shimmers; add 1/2 the diced onion and stir to coat. Cook, stirring occasionally, until softened, about 8 minutes. Add 3 cloves of minced garlic, red pepper and zucchini and continue to cook until they're cooked through but still crisp-tender. Season vegetables with salt.
Transfer the cooked vegetables and the cooked millet to the mixing bowl with the spices; add parsley and stir gently to combine well. Taste and adjust seasoning, adding salt and pepper as needed. Set this mixture aside to cool a bit so you can handle it. Scoop out 2 Tbsp. of the millet-vegetable mixture and gently press it into a disk about 2 inches wide and 1/2 inch thick. Repeat with remaining mixture; set fritters on a baking sheet covered with waxed paper. Alternately, you can form the mixture into 1-inch balls and bake them according to the directions below.
In large nonstick skillet, heat 2 tsp. of canola or vegetable oil over medium heat until it shimmers. Working in batches, add the fritters and sauté until they're nicely browned, about 6 to 8 minutes per side. Alternately, you can bake the fritters (on a foil-lined baking sheet sprayed with cooking spray) at 350 degrees for 20 to 30 minutes, until they're lightly browned.
For the sauce 
In a sauté pan, heat 1 Tbsp. olive oil over medium heat until it shimmers; add 1/2 the diced onion and stir to coat. Cook, stirring occasionally, until softened, about 8 minutes. Add 2 cloves of minced garlic and cook, stirring, for 1 minute. Add pureed tomatoes; cook, stirring occasionally, until the sauce thickens, about 10 minutes. Stir in Greek yogurt and harissa or hot sauce to taste.
To serve, ladle some sauce on each plate, then place the millet-vegetable fritters on top.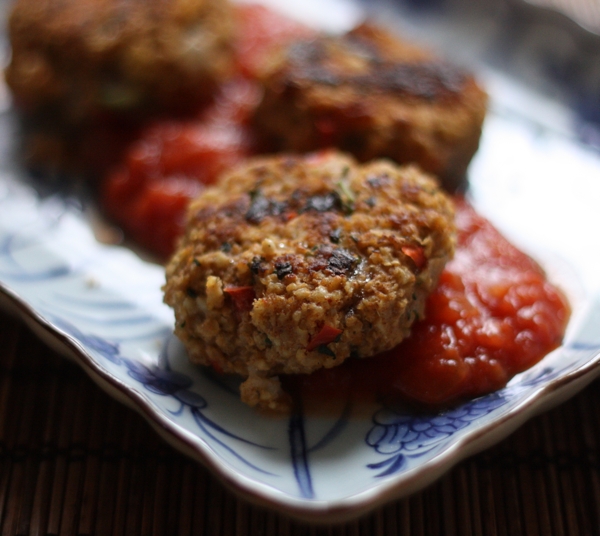 related recipes
cooking with whole grains
farro and butternut squash salad